By: Sarah Purtill
Impunity Watch Reporter, North America
CHICAGO, United States – Many elderly people struggle to get out of their homes following snowy weather. Particularly, those with asthma, neuropathy, and oxygen tanks. This was the case after snowy weather in Chicago on the weekend of February 10th. Many of these senior citizens called Jahmal Cole about their inability to shovel their drive ways and side walks. "When you're getting emails and calls, you don't want to let people down," said Cole. "I wasn't trying to make a campaign. This was literally me trying to help out my neighbors. We had to organize on the spot," he said.
Chicagoan Jahmal Cole is a community organizer in Chatham who runs the non-profit, My Block My Hood My City. He runs it without office space and only two full time staff members. My Block My Hood My City both organizes and brings teenagers from under-served communities on different field trips. With one tweet, Cole called for volunteers to help clear the snow of elderly neighbors in Chatham . That one tweet was retweeted more than 22,000 times and liked over 64,000 times.
What did that tweet say? "Meet me at the 79th St. Red Line stop at 10:00 am tomorrow. I got hoodies, hats and lunch for anybody that comes through." The following morning, 120 people showed up offering to help shovel, some even bringing shovels of their own. "The people who showed up, they showed that whether people have privilege or don't have privilege, everyone recognizes a need," said Cole. Cole had brought 10 shovels and his 15 person van. With all the volunteers, he had to go buy more shovels. Then, he sent the volunteers to dozens of addresses that needed snow removal.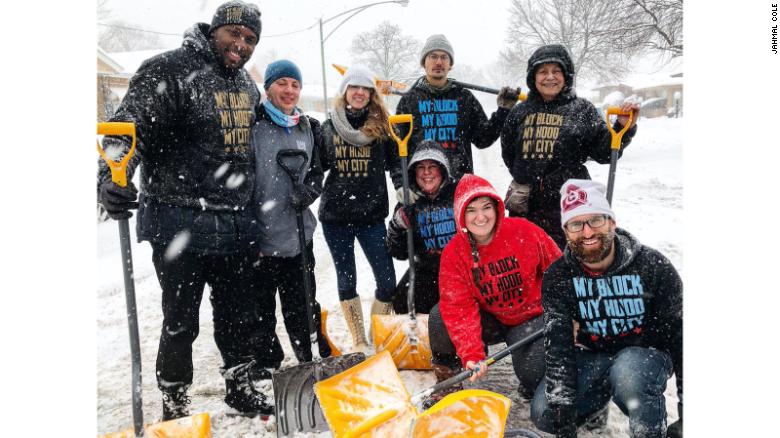 The volunteers came from all over, including Rogers Park, Roseland and even Indiana (a two and a half hour bus ride away). Men and women of all ages shoveled for more than four hours. The next day, 11 more people showed up. About his efforts, Cole said, "My mindset is always, 'What's something simple that I can do that'll have a positive impact on my block and my neighborhood'? You don't have to have a law degree to shovel your neighbor's walkway."
When all was said and done, Cole and the all of the volunteers went out to lunch at a neighborhood restaurant. "I'm proud of our city. We're getting things done," Cole said. "People could have been doing anything in the world. They could have been home with families or making snowmen, but they came out to help."
For more information, please see:
KMOV – How 1 Tweet inspired 120 People to Shovel Snow for the Elderly – 14 February 2018
CNN – How 1 Tweet Inspired 120 People to Shovel Snow for the Elderly in a Chicago Neighborhood – 13 February 2018
Independent – Chicago Man's Tweet Asking for 10 Volunteers to Help Clear Snow for Elderly Draws 120 After Going Viral – 13 February 2018
Author:
Sarah Louise Purtill
is a second-year law student at Syracuse University College of Law (SUCOL). In addition to being an Impunity Watch News Reporter, she is an Associate Editor for the Syracuse Journal of International Law and Commerce. Sarah is the Media Managing Editor for Syracuse Law and Civic Engagement Forum as well as the Treasurer for Phi Alpha Delta Law Fraternity's Carmody Chapter at SUCOL. She is also serving her second term as a Class Senator for the Student Bar Association at SUCOL. Sarah is a student attorney at the Elder and Health Law Clinic of SUCOL. Sarah graduated from John Jay College of Criminal Justice's Honors Program in June of 2016 with a Bachelor's Degree in Political Science and a Minor in History. Sarah expects to graduate with her Juris Doctor from SUCOL in May of 2019.