By Samantha Netzband 
Impunity Watch, Africa Desk Reporter 
LUSAKA, Zambia– Zambian police have been forbidden from marrying foreigners.  The Head of Police in Zambia issued a memo on Monday January 23 advising Zambian police to not marry foreigners effective immediately.  This ban is put in place in order to protect the Zambian people.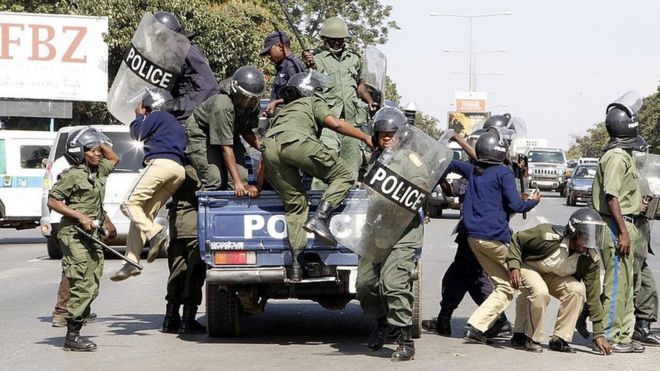 Zambia police in the capital of Lusaka. (Photo Courtesy of BBC Africa)
For police officers who already have foreign spouses have to register their spouses by Monday January 29th.   If they do not register their spouses they will face disciplinary action.  Many are upset about this law which some are claiming is unconstitutional.  However, police spokesperson Esther Katongo defended the order by saying, ""Issues of security are delicate. If not careful, spouses can be spies and can sell the security of the country''.
She also stated that this law has always been on the books, but given the new security situation in Zambia, it is now being enforced.  Action was being taken in order to ensure that police were complying with this previous requirement.  Some are criticizing the move saying that instead of worrying about spouses the police should better train their officers to be more professional.
For more information, please see: 
Africa Review – Outrage after Zambia police banned from marrying foreigners – 23 January 2017
BBC Africa – Zambia police banned from marrying foreigners – 23 January 2017
News Agency of Nigeria – Zambia police ban foreign wives – 23 January 2017
Vanguard – Zambia bans police officers from marrying foreigners – 23 January 2017