By: Max Cohen
Impunity Watch Reporter, South America
BOGOTA, Colombia – Over the past year at least 41 human rights activists and social leaders have been murdered in Colombia with the number of possible deaths reaching as high as 100. The latest victim of the disturbing trend is Jose Maria Lemus, a local leader of indigenous people. Back in May the UN High Commissioner of Human Rights confirmed 14 murders of human rights defenders, a difficult process in part because there is disagreement over who is to be considered a human rights leader. The only thing people seem to agree upon is that the number of murders of human rights leaders is higher than in previous years.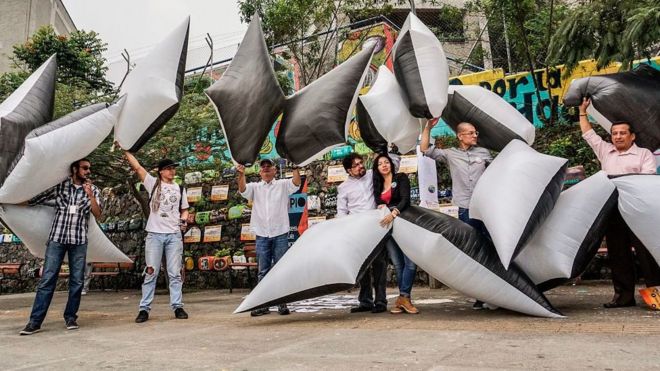 The attacks are concentrated in areas previously controlled by the Revolutionary Armed Forces of Colombia (FARC), who famously signed a peace treaty with the Colombian government back in 2016. Since then, the power vacuum has been left to be filled by a variety of criminal groups. In taking control over these areas it is believed that a major reason for the deaths of these activists and leaders is because they are a threat to the criminals. The vacuum had such devastating consequences that in February, residents of the Choco region begged the country's only remaining guerilla group, the National Liberation Army (ELN), to take over the vacuum.
Currently within the Choco region ELN is competing against the paramilitary group Gaitanist Self-defenses of Colombia (AGC) over stretches of the San Juan River, a conflict which has been going on for years. Human Rights Watch has documented evidence of numerous human rights abuses by both sides including but not limited to killings, child recruitment, planting landmines, and other threats. Approximately 1/5th of the people living in Litoral de San Juan were displaced by the violence in 2016, and during the first two months of 2017 that number went up by 1,300 people.
One of the places citizens have fled to is the city of Buenaventura, a place embroiled in problems of its own. In mid-May, there were protests by citizens of the city seeking better living conditions, which after the protesters' demands were ignored by the government erupted into chaos. Even with the Colombian riot police in the city, and reports of looting, some peaceful protesting is continuing in the city.
For more information, please see:
teleSUR – Another Social Leader Murdered in Colombia – 14 June, 2017
Human Rights Watch – Colombia: Armed Groups Oppress Riverside Communities – 7 June, 2017
Atlanta Black Star – Afro-Colombian City Burns In Protest As Citizens Fight for Basic Human Rights – 1 June, 2017
BBC – Why has Colombia seen a rise in activist murders – 19 May, 2017
The Guardian – Colombia death toll rises as gangs fill vacuum left by Farc rebels – 18 February, 2017