By Max Cohen
Impunity Watch Special Features Editor
Edited By Yesim Usluca
Impunity Watch Senior Special Features Editor
It used to be one of the richest countries in South America. Now, citizens are fleeing in droves to any country that will have them. The money isn't worth the paper it is printed on. And, the government is under the complete control of one man and his political allies. Over the past several months Venezuela has been embroiled by conflict as citizens have marched for change and the government has responded with a violent crackdown, which has only inspired more protests.
The first question on the minds of most is: How did this chaos come to be? Well, it began with an economic crash caused in part due to plummeting oil prices. Oil is Venezuela's chief export, accounting for over ninety percent of the country's export revenue, and without the billions that came from the state-owned oil company they could not sustain the social programs and food subsidies that oil money had funded. Because of years of borrowing from other countries, Venezuela has been left with massive debt, dwindling foreign currency, and a drastically drained reserve of funds, which has led imports for things such as medicine to be cut in half. Furthermore, inflation has made it more difficult for citizens to afford food, leading to a growing malnourishment problem. Price controls on goods sold within the country to make them more affordable have only made the problem worse by making them too cheap to justify the costs of production. However, these policies are politically difficult to repeal because they were put into place by the late Hugo Chavez, the still beloved predecessor of current Venezuelan President Nicolas Maduro. Then, in 2015, Venezuela's opposition party won a supermajority in their Congress, the National Assembly.
In January 2016, Venezuela's Supreme Court suspended the elections of a few opposition party lawmakers for alleged voting irregularities. However, the National Assembly continued to operate regardless of the Court's order, leading the Court in March 2017 to declare the Assembly in contempt and in the process, effectively giving itself the power to legislate. Protesters took to the streets, and only a few days later the Supreme Court partially reversed its ruling by not taking the legislature's powers. However, the Court did not address whether the National Assembly was still in contempt. The protests did not end however, as citizens continued to demand a new election to replace Maduro.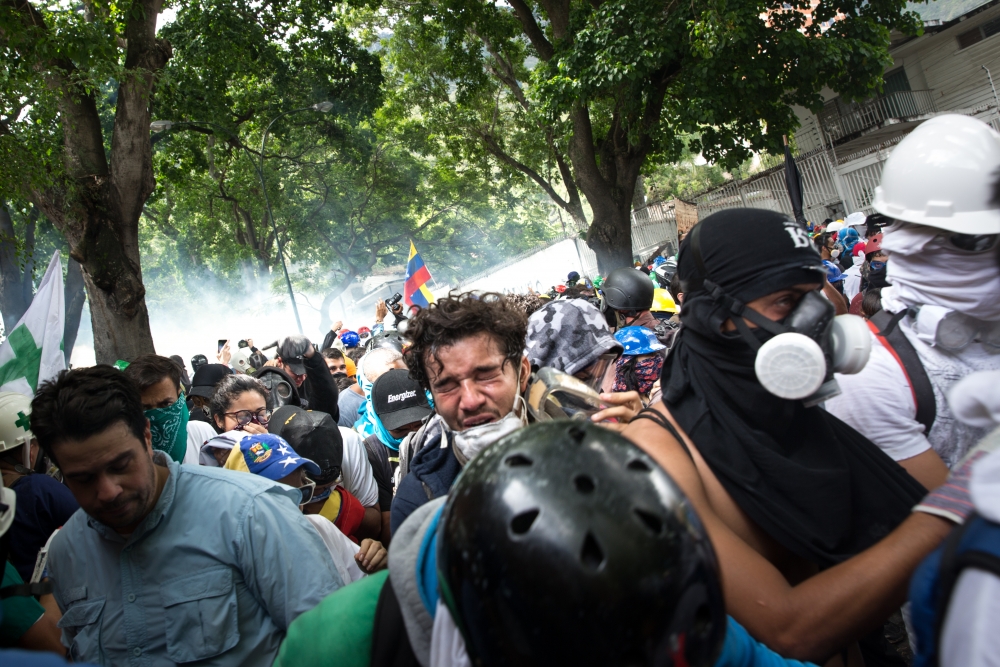 Venezuelans protest in La Castellana, a neighborhood in eastern Caracas. Photo courtesy of IRIN News.
Over the summer, as citizens came to the streets in massive numbers, their attempts at peaceful protests were met with excessive force and false arrests as government security forces attempted to quell the demonstrations. Approximately 120 people have died in the protests, and thousands have been arbitrarily detained as demonstrators have been tried in front of military courts, a process usually reserved for military crimes or terrorism. But, in a military court, Maduro could be assured of an outcome in his favor.
Planting evidence and unwarranted charges against civilians have been used to attempt to stifle dissent. One such incident involves Ana Rosa Cisneros, who was shopping at a pharmacy near a protest when she was arrested by the Venezuelan National Guard, and was detained for sixteen days. Now she must report to court monthly because of the charges levied against her.
Furthermore, conditions in the prisons where demonstrators, and those accused of doing so, are held are nothing short of horrific. In one prison called the Helicoid guards allegedly beat inmates, shocked them, and exposed them to tear gas-like chemicals. Prisoners in Venezuela deal with sexual abuse, and in one strange case were even forced to eat raw pasta with human feces in it. Illegal home raids by security forces are another tactic used by the government to intimidate people, with approximately forty-seven illegal raids occurring across eleven districts during the summer. In these raids, the security forces would break into people's homes without any justification, legal or otherwise. They would search the houses, destroying property and using violence in the process, threaten the people living there, and leave hours later, sometimes outright stealing things as they left.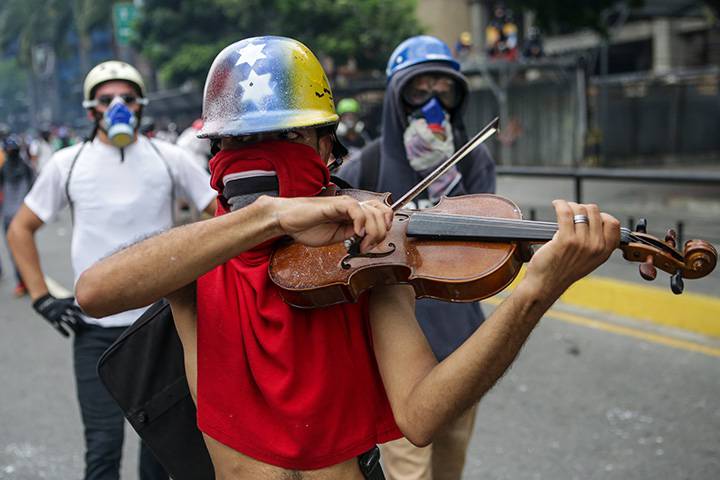 Wuilly Arteaga, an opposition activist, plays his violin during a protest against President Nicolas Maduro. Photo courtesy of Shaw Global News.
Brutality towards protesters has also been a common feature of the government's response to the demonstrations. One famous incident of brutality by security forces involved Wuilly Arteaga, a protestor who was injured during the protests while playing songs on his violin, including Venezuela's national anthem. Arteaga gained international celebrity after a video went viral of him crying over a violin broken by government security forces. However, there was a bright side as he received numerous violins from several people, including celebrity salsa singer Marc Anthony. Then in August, after being arrested at a demonstration, Mr. Arteaga was detained for over two weeks, during which time he was allegedly beaten and tortured by the guards. Around the same time, the government released a video in which Arteaga said that he was not mistreated in jail and that the government did not break his violin. According to Arteaga however, the video was doctored, and many of his statements in it were coerced. In a more tragic tale, a young man, David José Vallenilla, was killed after being shot three times in the chest at point blank range by a soldier for hurling rocks over a fence at the La Carlota airbase. In an ironic twist of fate, it turned out that Mr. Vallenilla was the son of Maduro's former boss from when the Venezuelan leader was a bus driver. Even worse, these are only some of many stories just like them among those who have protested in Venezuela.
Despite the deaths, injuries, and unlawful detentions, protests continued and even became more impassioned after Maduro called for the election of a constituent assembly to rewrite the nation's constitution. Maduro even brought in the military, putting 232,000 soldiers out on the streets, to ensure everything went off without a hitch. But, in the days preceding the vote, millions of people across the country engaged in a two-day strike. Furthermore, even after Maduro declared protests during voting to be a crime punishable by imprisonment of up to ten years, people came to the streets to voice their opposition to Maduro and express their frustration at a vote that many predicted would be fraudulent. Only a few weeks earlier, over seven million citizens had participated in an unofficial vote rejecting the constituent assembly, which was deemed "unlawful" by the government. Venezuela's opposition party even refused to recognize the legitimacy of the Constituent Assembly election before it took place, and thus did not submit any candidates from their party. In a result surprising no one, the pro-government constituent assembly won in an election, where there was no rejection option, that the CEO of the company suppling Venezuela's voting machines confirmed was fraudulent. Results were reportedly off by at least one million people, and may be off as much as half of the eight million who purportedly voted in the election.
As a result, the Constituent Assembly will govern Venezuela as a legislature until their constitution is rewritten, giving Maduro complete control over the country indefinitely. Among its members are Maduro's own wife and son, as well as other allies of the embattled president. The United States (U.S.), along with many other countries have stated that they do not recognize the result of this election. The only countries who have recognized the election thus far are allies of the country such as Bolivia and Cuba.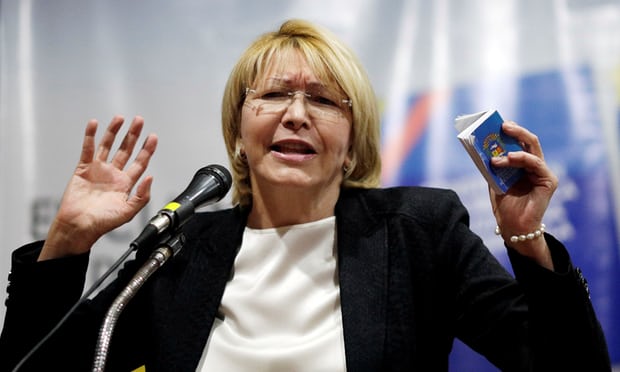 Former Venezuelan Attorney General Luisa Ortega Diaz. Photo courtesy of Reuters.
Throughout the troubles in Venezuela, the only government official in Maduro's administration willing to stand up to Maduro was the former Attorney General, Luisa Ortega Diaz, speaking out against her government on the issue of human rights. Her public dissent began when she condemned the Venezuelan Supreme Court for attempting to take away the National Assembly's powers. Furthermore, after reports of the fraud committed in electing the Constituent Assembly, she vowed to investigate, only to be fired by the Constituent Assembly a few days later, something which had also been attempted by Venezuela's Supreme Court earlier in the summer. Both times that she was fired, Diaz attempted to continue with her job. The first time she was successful in returning to work and even charged the former head of Venezuela's National Guard with human rights abuses. But, after being fired by the Constituent Assembly she was prevented by security forces from even entering her building. The Constituent Assembly's new Attorney General, Tarek Saab, is considered an ally of Maduro and has allegedly turned a blind eye to human rights abuses. Diaz's change of position towards Maduro's administration came about because of a multitude of factors including the state of the country, the kidnapping of her children, and the persecution that she felt coming towards her from other parts of the government. Previously she had also been banned from leaving the country and her assets had been frozen by the government. But since being fired, she has fled the country and is now in hiding. Recently she has supplied the U.S. with evidence compromising top officials in Maduro's government concerning various forms of corruption, including evidence of graft linked to food imports. As recently as November 16th, she accused Maduro, before the International Criminal Court, of being responsible for crimes against humanity amounting to over 8,000 murders since 2015.
Opposition leaders have also been continually outspoken against the abuses of Maduro's government, only to be met with retaliation. In April, the government had told opposition leader Henrique Caprilles that he was banned from doing any political work for fifteen years. Then in May, he was banned from leaving the country just as he was about to attend a meeting with the United Nation's (U.N.), Human Rights Council to discuss the turmoil embroiling his country. Two opposition leaders, Leopoldo Lopez and Antonio Ledezma, were taken from their homes in August and jailed on suspicion that they were planning to leave the country and had violated the terms of their agreements by making political statements. Both men were under house arrest at the time, and have since been released back into house arrest. Lilian Tintori, the wife of Leopoldo Lopez, was also banned from leaving the country after 200 million bolivars, the equivalent of $11,000, were found in her car. Tintori claims that the cash was from personal funds to help pay for her grandmother's medical care. All of this came right before Tintori was scheduled to go to Europe to attend meetings to convince European leaders to institute sanctions against Venezuela and the Maduro government.
Opposition members have not been the only victims of the government's authoritarian acts. In October 2017, three journalists, two of them from Europe, were arrested as they prepared a report on the conditions in a Venezuelan prison. Furthermore, in June, an American citizen was imprisoned for alleged weapons charges. However, many believe it was due to the U.S.'s stance on the Venezuelan government's authoritarian acts.
In late July, the opposition had also attempted to replace the Venezuelan Supreme Court with appointees of their own, an action that the current pro-government Court declared invalid and inferred that such an action could be treason. One appointee was detained by the government and others were allegedly threatened by government forces. A few of the justices appointed to an alternative Supreme Court created by the National Assembly, were later forced to take refuge in the Chilean Embassy.
The U.N. has also been a steady force standing against Venezuela to the extent that it can. It has denounced the government's moves from the retaliation against figures like Luisa Ortega Diaz, to denouncing the government's abysmal handling of human rights. The U.N. has also issued a report documenting the various human rights abuses by the Venezuelan government referring it to the U.N. Human Rights Council for action. However, Venezuela is still currently a sitting member of the council and would be involved in any decision by the body.
Now only one other question remains; what happens next? Two governments currently exist in Venezuela. The official Constituent Assembly, which has all the power, and the National Assembly, which, although it still meets, has done little since August other than to publicly protest Maduro's government's actions. The National Assembly though, is that in name only, with no resources, and few lawmakers willing to show up to conduct "business."
In mid-October, there was another round of voting in the nation's gubernatorial elections, in which those aligned with Maduro won handily. The opposition has alleged fraud, but none of the evidence thus far pans out those claims. However, even though Maduro's allies won by a sizable margin without inflating the vote count, Venezuela's most recent elections were far from fair. Just hours before the vote, the government-aligned National Electoral Council moved many pro-opposition polling places leaving half a million people with no idea where to vote. When they attempted to find out by texting a special number, the government would text them back reminding them who the Socialist candidate for their region is. The government told people that its electoral system enabled them to know who had voted, and public-sector employees were brought to the polls by their employers and threatened with firing if they did not vote. The few wins received by the opposition party were rendered almost pointless by Maduro's demand that, to take office, any elected candidate had to take an oath before the Constituent Assembly and "subordinate" themselves to it.
Russia, a longtime ally of Venezuela since the Soviet Era, has since agreed to restructure Venezuela's debt payments just as it appears the country is headed for default. A default would mean an even greater disaster in terms of severe shortages of food and medicine. It would endanger not only Venezuela's economy, but potentially the world economy at large. Additionally, default would result in an immense amount of litigation, and possible seizures of the government's overseas assets, particularly Citgo which is the American subsidiary of Venezuela's state-owned oil company. China, another major lender to Venezuela, has shown no interest in lending more money to them, some theorized at the time due to concerns over Maduro's longevity in his position.
The U.S. has reacted to the Venezuelan crisis much differently, instituting sanctions on the country's political leaders as well as inclusion of the country in the latest version of President Donald Trump's now infamous travel ban. Other financial and economic sanctions have also been a part of the U.S.'s action, such as barring any new financial deals with either the government or the state-run oil company PDVSA, which as a result will make it difficult for PDVSA to refinance its debt. However, the U.S. has not yet issued a ban on Venezuela's main industry, crude oil trading. As the U.S. is Venezuela's biggest customer of oil, a sanction on the product, if instituted, would do incredible damage to the country's economy. The European Union has also banned arms sales to the country, and instituted a system to freeze assets and put in place travel restrictions on Venezuelan officials. The U.S.'s involvement in attempting to get Maduro to step down however, has not gone unnoticed and Maduro has made the country the proverbial "boogeyman," blaming it for the current political and economic instability.
In late November 2017, Maduro replaced the head of the state-run oil company with a general and former housing minister, Manuel Quevedo, with little experience in the industry. Around fifty officials at the company have been arrested in what the government claims is an attempt to clear the organization of corruption. In addition to continuing to clear corruption, Quevedo will also oversee the difficult process of restructuring the company's debt. Quevedo is also accused of committing human rights violations during the anti-Maduro protests. However, some speculate that Maduro's true motive may be to clear the field of powerful potential political rivals and tighten control over the country's only major source of money.
Approximately 27,000 Venezuelans in 2016 and 52,000 thus far in 2017 have applied for asylum. That is only a fraction of those fleeing the country during its most recent economic and political crisis. In the neighboring state of Columbia alone, the estimates range from 300,000 to 1.2 million Venezuelans living there. Also, in Argentina, the number of Venezuelans starting new lives there has jumped from 1,911 in 2012 to 12,859 in 2016. With 8,333 in the first quarter of 2017 alone, it does not appear to be on track to decrease any time soon. Furthermore, Chile too has seen a massive increase, with the average number of visas issued to Venezuelans rising from 758 to 8,381. The mass exodus becomes even more serious as one reflects on that fact that a majority of those leaving are the kind of well educated professionals that Venezuela needs to hang onto if it is going to climb out of its current economic hole.
Countries around the world have slapped Venezuela with sanctions, and will probably continue to do so as the situation there worsens. Protests have dwindled in size out of fear from the government's now unchecked power. People will continue to flee the country's dire political and economic conditions for other countries. And, as the morally crushed opposition sinks, Maduro's grip on the country will grow stronger and eventually stabilize his hold on power. With the stabilization of Maduro's hold on power, Venezuela's allies, as Russia did in early November 2017, will be more willing to help the country economically, but even they cannot save it now. The economy will continue to fester and rot as the government keeps the policies preventing growth in place, and may even worsen as oil as a fuel source declines in usage due to energy saving technologies and global action on climate change.
For any lasting change to occur, it will have to come from the people. Standing up to Maduro's regime will be an enormous risk, but it is one that citizens will need to take if they want to realize the greater rewards that come with true freedom. Waiting and hoping for things to get better is not an option because things are primed to only get worse. It is only through action that things will truly get better.
For more information, please see:
Aljazeera – Venezuela's crisis explained from the beginning – 14 December 2017
Aljazeera – Venezuela: UN warns of possible crimes against humanity – 11 September 2017
Amnesty International – Venezuela: Repression taken into people's living rooms as home raids surge – 30 October 2017
Bloomberg – Venezuela's Empty Elections – 19 October 2017
Business Insider – 'The tipping point': More and more Venezuelans are uprooting their lives to escape their country's crises – 2 December 2016
CBS – Voting machine firm: Venezuela vote rigged "without any doubt" – 2 August 2017
CNN – Controversial Venezuela vote to be investigated, attorney general says – 3 August 2017
CNN – Deadly election day in Venezuela as protesters clash with troops – 30 July 2017
CNN – Putin extends lifeline to cash-strapped Venezuela – 15 November 2017
CNN – Trump administration announces new travel restrictions – 25 September 2017
CNN – U.S. hits 10 more Venezuelan leaders with sanctions – 9 November 2017
CNN – UN: Venezuelan protesters endure excessive force, other rights violations – 8 August 2017
CNN – Venezuela's high court dissolves National Assembly – 30 March 2017
CNN – Venezuela: How paradise got lost – 27 July 2017
CNN – Venezuelans launch 2-day strike against Maduro as US slaps sanctions – 27 July 2017
CNN – Venezuela's Leopoldo Lopez returns to house arrest – 6 August 2017
CNN – Venezuelan protester shot dead at point-blank range by soldier – 23 June 2017
Fox – EU adopts sanctions against Venezuela – 13 November 2017
The Guardian – 'At home, we couldn't get by': more Venezuelans flee as crisis deepens – 17 July 2017
The Guardian – I gave US 'compromising' evidence on Venezuela officials – ex-chief prosecutor – 13 October 2017
The Guardian – 'I will be back': Violin-playing face of Venezuela's protests injured in clashes – 22 July 2017
The Guardian – Trump's latest travel ban: what's new, who's covered, and why now? – 25 September 2017
Human Rights Watch – Questionable Elections in Venezuela – 23 October 2017
Independent – Venezuela's president accused of crimes against humanity – 16 November 2017
LA Times – Driven by unrest and violence, Venezuelans are fleeing their country by the thousands – 19 October 2017
The Local – Journalists including Italian, Swiss arrested over Venezuela prison report – 8 October 2017
Miami Herald – Venezuela's opposition leader barred from leaving the country – 18 May 2017
NBC – Venezuela's New Constitutional Assembly Ousts Anti-Maduro Prosecutor Luisa Ortega – 5 August 2017
New York Times – How Venezuela Fell Into Crisis and What Could Happen Next – 27 May 2016
New York Times – Venezuela's New Leaders Begin Their March Toward Total Control – 4 August 2017
New York Times – Venezuelan Court Revises Ruling That Nullified Legislature – 1 April 2017
New York Times – Venezuelan Opposition Denounces Latest Vote as Ruling Party Makes Gains – 16 October 2017
New York Times – Venezuela Tries Protestors in Military Court 'Like We Are in a War' – 12 May 2017
New York Times – Venezuela Votes for Governors in a 'Deficient Democracy' – 14 October 2017
PBS – Venezuelan opposition wins supermajority in National Assembly – 9 December 2015
Reuters – Activist Tintori says she is barred from leaving Venezuela – 2 September 2017
Reuters – Maduro taps major general to lead Venezuela's deteriorating oil industry – 26 November 2017
Reuters – Slain Venezuelan protester's father appeals to 'friend' Maduro – 23 June 2017
Reuters – Trump slaps sanctions on Venezuela; Maduro sees effort to force default – 25 August 2017
Reuters – Venezuela jails opposition leaders in new crackdown on opponents – 1 August 2017
teleSUR – Supreme Court Declares Opposition's Naming of Judges Invalid – 21 July 2017
U.N. News Centre – Human rights violations indicate repressive policy of Venezuelan authorities – UN report – 30 August 2017
U.N. News Centre – Venezuela bans Attorney General from leaving country; UN rights office voices concern – 30 June 2017
U.N. News Centre – Venezuela: UN human rights chief regrets opposition leader being blocked to travel – 19 May 2017
Washington Post – In Venezuela, prisoners say abuse is so bad they are forced to eat pasta mixed with excrement – 24 June 2017
Washington Post – Report: More than 500 people were killed in two years in Venezuelan government's anti-crime campaign – 5 October 2017
Washington Post – Venezuela's democracy is fake, but the government's latest election win was real – 17 October 2017
Washington Post – A young Venezuelan made his violin an instrument of resistance. The government hit back – 28 August 2017