by Zachary Lucas
Impunity Watch Reporter, Asia
DHAKA, Bangladesh — Mir Quasem Ali, a former media tycoon, was executed after being convicted of war crimes during the Bangladesh's war for independence in 1971. Ali was a financier to the largest Islamist Party in the country, the Jamaat-e-Islami party.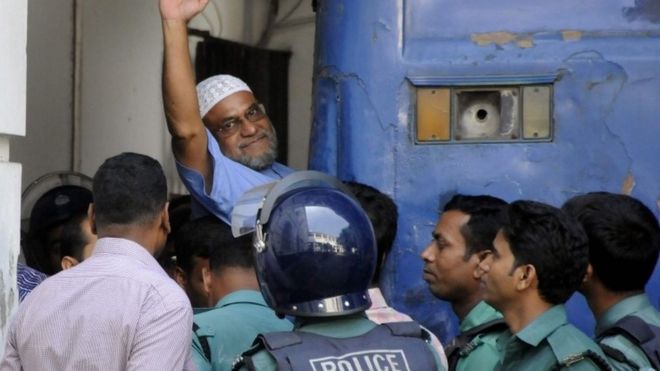 Ali was formally arrested in 2012 and charged in mid 2013. The charges involved murder and torture, including the abduction and murder of a young man in a torture chamber. Throughout the trial Ali proclaimed his innocence and stated that the charges were unjustifiable. Ali was found guilty on 8 charges, two of which carried the death sentence, in 2014 before the International Crimes Tribunal that was set up to try war criminals from the 1971 conflict.
A five-member appellate court upheld the decision of the trial court and the sentences. The Supreme Court rejected a final appeal earlier in the week. Ali did not seek presidential pardon which requires an admission of guilt. Ali was hanged at 10:30 PM on Saturday. His body was driven from the prison in an ambulance early Sunday morning to his home village in Manikganj for burial. Family members had requested his body be buried in Dhaka but government officials refused.
Following the execution, a security operation was staged to prevent violence. Home Minister Asaduzzaman Khan said that security operations were underway to keep the peace including deployment of paramilitary border guards and more police in Dhaka. The opposition party proclaimed the trial to be "political vengeance" and stated they would stage protests on Monday.
Both the Jamaat-e-Islami party and human rights experts around the world have questions the integrity of the International Crimes Tribunal set up shortly after the current Prime Minister, Sheikh Hasina, came to power. Ali, who was the former head of the Diganta Media Corporation, is the latest in members of the opposition party to be executed at the tribunal. Since 2010, six opposition leaders have been executed, five of whom were from the Jamaat-e-Islami party. As a total, 24 people have been sentence to death at the tribunal.
The war in 1971 began when self-determination groups in East Pakistan revolted against Pakistani leadership which led to armed conflict. The war became a hot spot during the Cold War as the United States, former Soviet Union, and People's Republic of China were involved in the conflict. The end of the conflict led to Bangladesh gaining independence from Pakistan.
Prime Minister Hasina says the conflict left 3 million dead and over 400,000 women were raped. Pakistani forces and Jamaat-e-Islami supported militias were accused of systematic executions and rape during the war. Pro-Pakistani militias were accused of setting up detention centers were liberation supporters were tortured, including one at Chittagong, that Ali was accused of running.
For more information, please see:
BBC — Bangladesh hangs Islamist Mir Quasem Ali for 1971 war crimes — 4 September 2016
The Daily Star –Review binned, death stays for Quasem — 30 August 2016
The Hindu —  Bangladesh executes Jamaat leader Mir Quasem Ali — 4 September 2016
Time — Bangladesh Court Upholds Death Sentence of Islamist Leader Convicted of War Crimes — 30 August 2016
Yahoo — Bangladesh executes 5th Islamist party leader for 1971 war — 3 September 2016