By Kaitlyn Degnan
Impunity Watch Reporter, South America
BOGOTA, Colombia — The Colombian government has launched an investigation into disappearances in Colombian prisons between 1999 and 2001. The investigation is focusing on La Modelo prison in Bogota. The dismembered remains of at least 100 persons were found in the sewer system of the prison.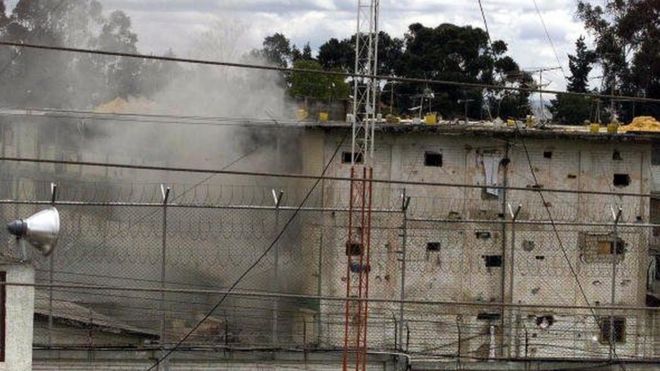 La Modela is one of Colombia's biggest prisons, and significantly overcrowded. During the period in question, the prison was divided and controlled by left-wing and right-wing paramilitary groups. Allegedly, faction leaders bribed prison officials to look the other way while they maintained control over their part of the prison. The paramilitaries allegedly patrolled their so-called "territory" armed with grenades and automatic weapons.
Rumors of disappearances in the prison have spread since the dismembered remains of an inmate was found stuffed in a drain in 2000. He had disappeared eight days earlier. The next day, 17 inmates disappeared during a fight between different factions. Their remains were never found.
Investigators believe that there may be more remains hidden in the sewer systems of other prisons throughout Colombia.
The investigation was prompted by the prosecution of paramilitary leaders Mario Jaimes Mejía, called "El Panadero" ("the Baker") and Alejandro Cárdenas Orozco. The two face charges of kidnapping, torture, and rape in the attack of Jineth Bedoya. Bedoya, a journalist, was one of the first to bring attention to the disappearances at the prison, after she noticed the numbers of inmates and visitors to La Modelo that went missing.
In 2000, Bedoya was abducted while visiting La Modelo (for the purpose of interviewing El Panadero). She was taken to the countryside where she was tortured and raped. The perpetrators left her tied up in a rubbish pile ten hours later.
Bedoya says she is "grateful for the actions being taken today, but it should've happened years ago. El Panadero's testimony taken more than 15 years ago, his version of the story, which is completely false, was endorsed by a prosecutor (with the Colombian attorney general's office) and that allowed for the process to stall and the case to remain in impunity." Bedoya sued the Colombian government in the Inter-American Commission on Human Rights for "unwillingness to do justice in her case."
Finding the truth of the disappearances at La Modelo, according to Bedoya, is "a debt that ht estate owes not only to Jineth Bedoya but the hundreds of victims of La Modelo Prison and the paramilitary forces."
The current prosecutor, Caterina Heyck announced in a press conference on February 17th that El Panadero had confessed to ordering the attack on Bedoya, and that Cárdenas had admitted to being one of her abductors. She has also requested that the two men not qualify for lighter sentences under the Justice and Peace Law. The law allows former paramilitary members to receive lighter sentences for laying down arms and confessing to their crimes.
For more information, please see:
Reuters – Scores of dismembered bodies found in Colombian jails – 17 February 2016 
BBC – Colombia probes disappearances from Bogota prison – 18 February 2016
CNN – Remains of at least 100 may have been tossed into sewers under prison – 18 February 2016
Latin Post – Colombian Jails Have Secrets That Can Give Your Nightmares – 18 February 2016
Mirror – Gruesome mystery as body parts of 100 prisoners and visitors found in sewer – 18 February 2016
Time – 100 Dismembered Bodies Found Beneath Colombian Prison – 19 February 2016 
Vice News – Colombia is Investigating Whether 100 Bodies Were Stuffed in a Prison Sewer – 19 February 2016