By: Emily Green
Impunity Watch Executive Director
BAKU, Azerbaijani – Detained human rights lawyer, Emin Aslan, appealed his detention in Azerbaijani's Court of Appeals on June 8th. None of Aslan's eight defense motions were granted and the court rejected his appeal.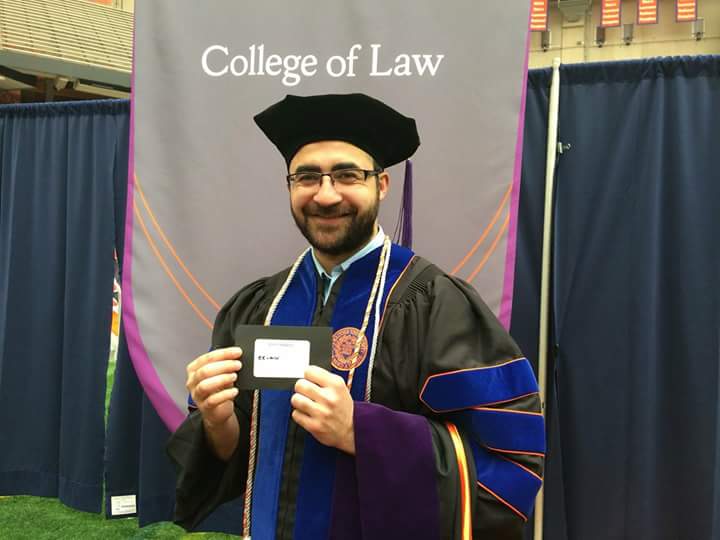 In the appeal, Aslan denied committing the alleged administrative offense. He maintained that he was detained in front of Park Boulevard Mall at 17:30, while the police report says he was detained in Narimanov Park at 23:30. Aslan's lawyer, Elchin Sadigov, petitioned to attach testimony of a witness that corroborates Aslan's version of events. He also sought to interrogate additional witnesses of the event and requested records from CCTV cameras in the territory. These motions were rejected.
The Court of Appeals ultimately upheld Aslan's detention on allegations that Aslan was swearing on the phone. Friends and co-workers of Aslan say that cursing publicly and disobeying police is beyond his character, and claim that these charges are fabricated.
Aslan earned his law degree from Syracuse University a few weeks before his detainment.  On June 11th, Syracuse University College of Law released a letter of support for Aslan. The statement acknowledges him as "a person of integrity who has deep respect for human rights, civil society, and the rule of law." It calls for a "transparent, open legal process in his case, if not his immediate and safe release." Vice Chancellor Mike Haynie has carried a copy of this letter to the United States Department of State.
The College of Law encourages the community to share Aslan's story on social media platforms and attract attention to his situation. Several faculty members have already shared Aslan's story with the media. The letter states, "We will continue to follow this situation and pledge to provide Emin and his family our support."
For more information, please see:
Turan – Emin Aslan Told About Interrogations in MDCOC – 8 June 2018
VOA – Graduate of US Law School Arrested in Azerbaijan – 7 June 2018
Human Rights Watch – Ruthlessly Silenced in Bahrain: Daily Brief – 5 June 2018