By: Max Cohen
Impunity Watch Reporter, South America
CARACAS, Venezuela – Protests continue across Venezuela, with more on the way, as citizens attempt to stop President Maduro from rewriting the nation's constitution. According to opposition members, millions voted against such a thing in an unofficial vote held last week, and millions more participated in a nationwide strike which paralyzed the country, protesting the rewrite. Meanwhile, the Maduro administration has continued to respond to the protests with violent means.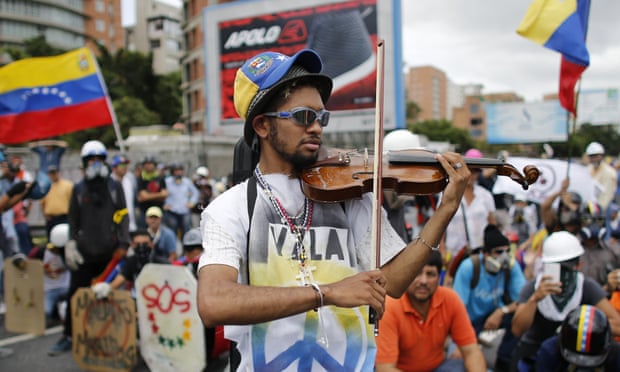 The opposition controlled National Assembly also attempted to replace the nation's Supreme Court with 33 appointees of their own, however the already existing Court has since declared the move to be void, and inferred that it could result in charges of treason. One of these appointees has already been detained by the Maduro government, and authorities have threatened others with arrest and trial before military courts as well. Since the National Assembly had sworn in lawmakers whose elections were suspended for supposed voting irregularities, the Court maintains that any action the legislature takes is illegal.
A protest held on July 22nd, had a few thousand protestors trying to reach the Supreme Court, however it's unclear whether this was connected specifically to the Court's action, or just a general protest of Maduro's attempt to rewrite the constitution. Several protestors were injured, including violinist Wuilly Arteaga, who has become a symbol of the protests for playing the national anthem and other tunes on his instrument as hectic protests occur around him. Authorities in the country have routinely used rubber bullets and tear gas against the protestors for the past four months, causing the deaths of 97 people and injuring thousands.
Meanwhile, a Venezuelan diplomat, Isaias Medina, has resigned from his post at the UN in protest of the actions taken by the Maduro government, urging Maduro to step down in the process. The opposition party is also currently boycotting the elections for the Constitutional Assembly, which would be charged with rewriting the constitution, proclaiming the votes as a sham since the rules are apparently designed to give Maduro's government a majority. Maduro plans to put 232,000 soldiers on the streets to assure that the Constitutional Assembly goes ahead.
For more information, please see:
ABC News – Venezuelans protest Maduro's plan to rewrite constitution -22 July, 2017
The Guardian – 'I will be back': Violin-playing face of Venezuela's protests injured in clash – 22 July, 2017
teleSUR – Supreme Court Declares Opposition's Naming of Judges Invalid – 21 July, 2017
New Jersey Herald – Venezuela diplomat says he resigned to protest Maduro acts – 20 July, 2017