By: Sara Adams
Impunity Watch News Reporter, Europe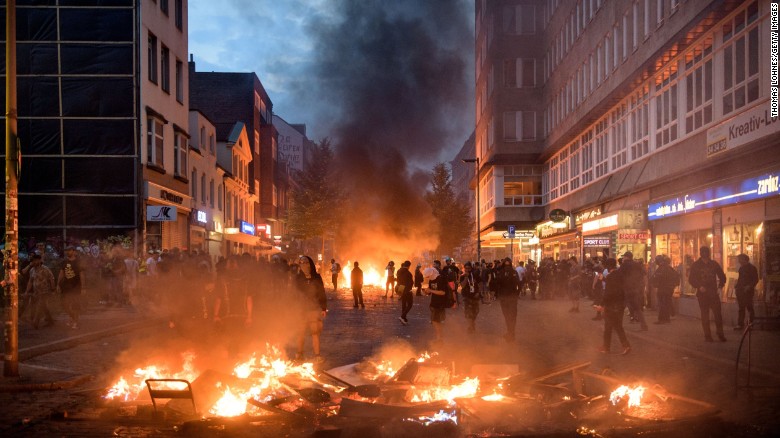 BERLIN, Germany – The German government shut down a far-left anti-capitalist website on August 25th.
The crackdown on extremism comes several weeks after anti-capitalist groups stormed the G20 summit in Hamburg. In July, the groups clashed with police, ending in violence between the two parties.
At the summit, hundreds of anti-capitalist protestors descended on Hamburg. The protestors lit cars on fire and looted near where the world leaders were convening.
The police used water cannons and tear gas to disburse the protestors. The skirmish ended with 76 police officers injured. An unknown number of protestors were injured as well.
Germany decided to take down the websites they alleged had ties to the violence at the G20 summit. The main website, linksunten.indymedia.org, was said to have been used to organize the unauthorized protest in Hamburg.
German Interior Minister Thomas de Maiziere told reporters that the websites were taken offline because they were "sowing hate against different opinions and state officials."
While there is a Constitutional right to freedom of expression and right to peaceably assemble in Germany, de Maiziere argues that the "alt-left" websites are outside the realm of constitutional protection.
Defining the online portal as an "association" rather than a media outlet is one way the websites are not protected.
As an association, Constitutional applications are less strict. A postwar statute criminalized inciting hatred against "segments of the population." Since the websites are not considered media outlets, they run counter to the criminal codes.
According to authorities, officers searched the home of the websites operator. They seized laptops and minor weapons like knives and pipes.
Authorities have been grabbling with the rise of digital platforms for extremist views since the recent rise of the "alt-right" both in western Europe and elsewhere. Germany has already banned a far-right website, taking "Altermedia Deutschland" offline in January.
But this is one of the first reported aimed at "leftist" groups. One of the main reasons for such was the resonance of encouraging violence online. It was alleged that one of the websites shut down had instructions on building a Molotov cocktail, along with calling police officers "murderers" and "pigs."
Spokesperson Ula Jelpke for German political party The Left, has called the decision an "illegitimate act of censorship."
De Maiziere disagrees, saying that the websites "legitimize violence against police officers," and that "this is absolutely unacceptable and incompatible with our liberal democratic order."
For more information, please see:
The New York Times – Germany, in a First, Shuts Down Left-Wing Extremist Website – 25 August 2017
BBC News – Germany bans far-left protest website over G20 riots – 25 August 2017
Reuters – Germany Bans Far-Left Website After G20 Violence – 25 August 2017
The Washington Post – In clampdown on left-wing 'hate', Germany bars website tied to G-20 violence – 25 August 2017
Reuters – Dozens of police injured in G20 protests as Merkel seeks consensus – 6 July 2017
The Guardian – G20 protests: police fire water cannon into anti-capitalist rally – 6 July 2017
CNN – G20 protests: Police, demonstrators clash in Germany – 6 July 2017