By Samantha Netzband
Impunity Watch, Africa Desk Reporter 
NAIROBI, Kenya– Kenya declared a national disaster on Friday February 10th due to an ongoing drought that started in October.  By declaring a national disaster, Kenya will be able to receive aid and has called for international aid in order to help people across the country.  According to reports 2.7 million people are in need of food aid in the country.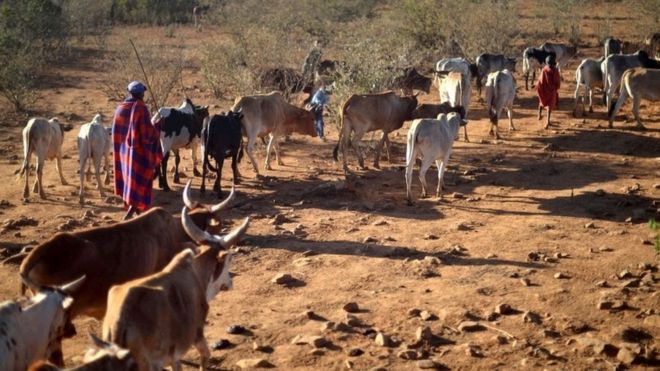 Herding cattle in Kenya. (Photo Courtesy of BBC Africa)
Kenya is not due for another rainy season until April, meaning that the drought will most likely remain in place until then.  Aid organizations fear that they will not have enough to contribute to Kenya's needs.  The United Nations World Food Programme is running $22 million short for 6-9 months.  The World Food Programme works to provide children around the globe with a meal that is sometimes their only substantial meal of the day.
Kenya is also contributing its own funds to alleviate the drought.  President Uhuru Kenyatta released $70 million to be used to combat the drought while local governments released close to $2 billion total.  The country is also dealing with the loss of agricultural land and access to water.  Kenya is facing increased desertification and is experiencing a loss of access to water in the Mau Forest Complex due to human activity.
Kenya is not alone in their struggles with food insecurity and the effects of the long lasting drought.  All of East Africa continues to struggle with the effects of the drought.  The International Federation of the Red Cross stating that 11 million people across East Africa have been affected.
For more information, please see: 
BBC Africa – Kenya's Uhuru Kenyatta declares drought a national disaster – 10 February 2017
News 24 – Kenya declares worsening drought a national disaster – 10 February 2017
Sputnik International – Kenya Appeals for International Aid as Drought Threatens Mass Famine – 12 February 2017
Yahoo News – Kenya  declares drought a national disaster, seeks help – 10 February 2017
Author:
Samantha Netzband