By: Katherine Hewitt
Impunity Watch Reporter, Asia
RAKHINE, Myanmar – Amongst the ethnic conflict between Hindus, Buddhists, and Muslims in the Rakhine state of Myanmar (Burma), a mass grave of 28 Hindus was found on 24 September 2017. The Myanmar army discovered the two pits near Yebawkya Village. The Information Committee confirmed the news later that day in a Facebook post.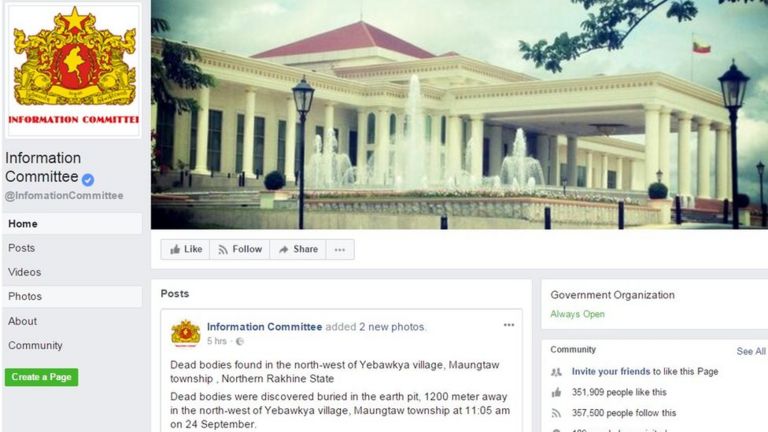 The Rakhine state is the scene of tense ethnic fighting between the Hindus and Rohingya Muslims that has spanned several years. However, the state has been in a state of crisis since the Rohingya militants attacked 30 police posts. The government responded with a military offensive that the UN declares as an act of ethnic cleansing against the Muslims. The High Commissioner called the government attacks disproportionate.
Hindu refugees from an attack on 25 August 2017 stated that Arakan Rohingya Salvation Army (ARSA)* militants stormed a Hindu village in the north of the Rakhine state, killing many. Others were escorted into the forest. A list of 102 missing people has been presented by Hindu women who fled the village. The Myanmar government is working to confirm this list.
In the meantime, the military is searching for more mass graves and bodies in the same area that original two graves were found. One day later, 25 September, the military found 17 more bodies 200 yards away from the mass graves. Members of the village were present to identify the bodies. In a statement from the government, the bodies were found blindfolded with slit throats and hands bound.
The Myanmar government has not released a formal statement on who committed the crime. The military supports the idea that those responsible are members of ARSA. ARSA militants fight for the Rohingya Muslims in the Rakhine state. An ARSA spokesman denies these accusations calling them "lies," and reminds the community that "ARSA has internationally pledged not to target civilians."
Currently, the government keeps Myanmar closed to foreigners, journalists and media personal specifically. Therefore, obtaining a neutral and independent view is difficult.
It is important to note that the majority of those afflicted by the ethnic violence in the Rakhine state are the Rohingya Muslims. There is little sympathy for the group. They are not universally considered citizens of Myanmar, but rather classified as invaders from Bangladesh. The Myanmar government seeks to rid out Rohingya militants. However over 400,000 Rohingya have fled to Bangladesh in the past month to escape the government violence.
For more information, please see:
Newsweek – "MYANMAR CRISIS: AS ARMY CLAIMS DISCOVERY OF 'MASS HINDU GRAVE' U.N. SEEKS AID FOR TRAUMATIZED ROHINGYA" – 25 September 2017
The New York Times – "Myanmar Follows Global Pattern in How Ethnic Cleansing Begins" – 18 September 2017
The Hindu – "Myanmar looks for more Hindu corpses as mass grave unearthed" – 25 September 2017
Reuters – "Myanmar finds more bodies in mass grave; UN seeks rapid aid increase" – 25 September 2017
The BBC – " 'Mass Hindu grave' found in Myanmar's Rakhine state" – 25 September 2017 
Author:
Impunity Watch Archive