By: Brian Kim
Impunity Watch Reporter, Asia
NAYPYIDAW, Myanmar – Pope Francis visited Myanmar for four days as the country deals with Asia's worst humanitarian crisis in decades. At the Yangon sports ground, Pope Francis delivered his first public mass in the country. Tens of thousands of people gathered to listen to his speech where the Pope demanded "respect for each ethnic group." In his homily, Pope Francis talked about forgiveness and ignoring the desire to revenge.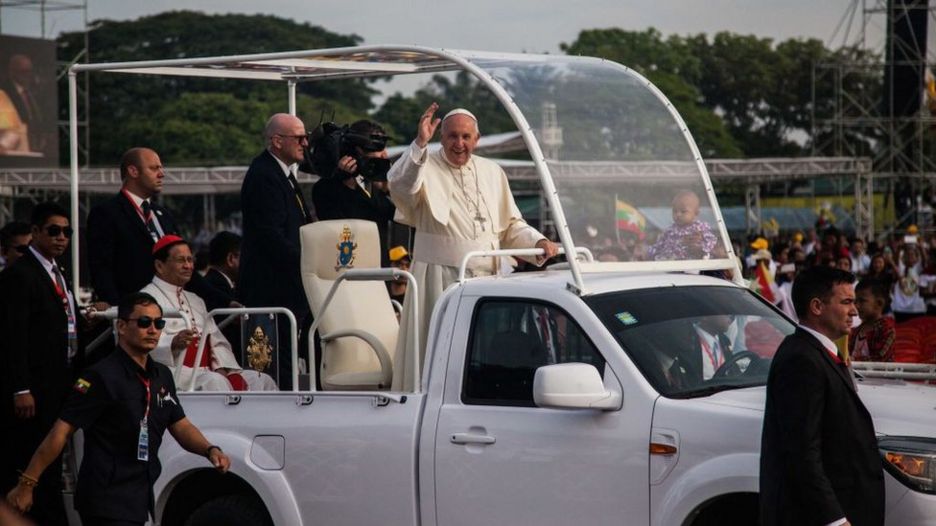 However, during his trip, Pope Francis did not publicly speak about the persecuted Muslim minority. The authorities believe that as many as 620,000 have fled to Bangladesh to avoid persecution in Myanmar. During his homily, he did not directly reference violence against the Rohingya.
The recent events in Myanmar has led the international community to accuse the country of ethnic cleansing. In Myanmar, the term Rohingya is rejected, and the people are labeled as "Bengalis."
Although many Rohingya activists did not blame the Pope directly, they voiced their concerns to his advisors who appeared to have persuaded the Pope to avoid bringing up the Rohingya issue in a public setting.
On Wednesday, November 29th, in response to many criticisms, a papal spokesman stated the moral authority of the Pope "still stands." He further stated that people can "criticize what is said or not but the Pope is not going to lose any moral authority on this question here," referring to the Rohingya crisis.
Whether the Pope should address the Rohingya issue has been debated fiercely within the Vatican. Among many voices, the most vocal was Charles Maung Bo, Myanmar's first cardinal. He has been very vocal about defending the Rohingya and condemned those who have persecuted them. However, before the Pope's visit, he advised the Pope to refrain from using the word.
Pope Francis is scheduled to fly to Bangladesh where he will meet Rohingya refugees on Thursday, November 30th.
For more information, please see:
ABC – Pope heads to Bangladesh with Rohingya crisis looming large – 29 November, 2017
BBC – Pope in Myanmar: All or nothing for the Rohingya – 29 November, 2017
The Guardian – Pope Francis disappoints Rohingya by failing to condemn persecution – 29 November, 2017
Author:
Impunity Watch Archive