By Sarah Lafen
Impunity Watch Reporter, Middle East
RIYADH, Saudi Arabia — Saudi Arabian police officers have released a woman who was arrested after she was walking through a fort in the historic neighborhood Ushayquir in a skirt and crop top, seen in videos online.  The woman, known by her given name Khulood, was arrested on Tuesday and turned over to prosecutors.  She was released a few hours later after questioning and was not charged with any crime.  The videos were posted to Snapchat originally, According to Khulood, the videos of her walking in the skirt and crop top were posted without her knowledge.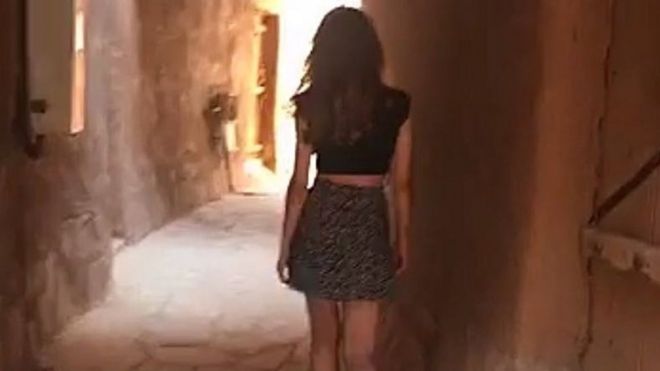 Many have criticized the woman's outfit for not being conservative or traditional enough.   Critics say that because she chooses to live in Saudi Arabia, she should accept its laws and customs.  Saudi write Ibrahim al-Munayif tweeted that "[j]ust like we call on people to respect the laws of countries they travel to, people must also respect the laws of this country."
Others have shown their support for the woman's freedom to choose her own outfit.  Supporters suggest that her choice was brave, and point out that when foreigners visit the country they are exempted from the country's dress code.  Some have pointed out that on their trip to the country in May, neither Melania nor Ivanka Trump wore abayas.  Sarah Leah Whitson, Executive Director of Human Rights Watch's Middle East and North Africa division, commented that "Saudi Arabia's continuing obsession with policing women's clothing choices shows authorities haven't moved on from the paternalistic and discriminatory mind-set that hampers women's lives." Whitson further noted that "Saudi Arabia's purported plans to reshape society and advance women's rights will never succeed as long as authorities go after women for what they wear."
A number of people have called for an official investigation into the video, asking authorities to take action against those who made the video.  Saudi Arabia's religious police released a statement assuring that they were looking into the matter.
Amongst a strict dress code for women, Saudi Arabian women also need to permission of a "male guardian" to travel or work, and they are prohibited from receiving driver's licenses.
For more information, please see:
ABC News — Saudi Arabia Releases Woman in Viral Miniskirt Video that Sparked Public Outcry Without Charge — 19 July 2017
The New York Times — Saudi Arabia Releases Woman Arrested for Wearing Skirt in Public — 19 July 2017
Time — Saudi Woman Arrested for Wearing Miniskirt has been Released — 19 July 2017
The Washington Post — Saudi Arabia says Woman Arrested for Wearing Skirt in Viral Video has been Released — 19 July 2017
Author:
Impunity Watch Archive