By Samantha Netzband 
Impunity Watch, Africa Desk Reporter 
MOGADISHU, Somalia– For the first time since 1994, U.S. troops are being deployed to Somalia to help fight Al Shabab.  In 1993 during the Battle of Mogadishu 18 U.S. Special Forces personnel were killed and the U.S. withdrew troops fully in 1994.  After the incident the U.S. has been involved in the country's affairs, but hasn't had troops in the country.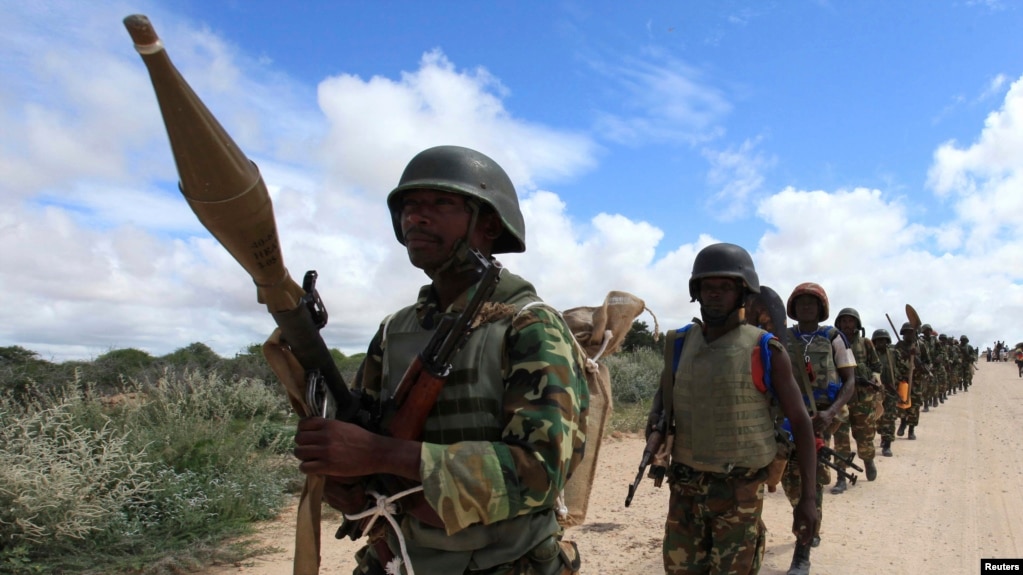 AMISOM (African Union Mission in Somalia) peacekeepers march near the outskirts of Mogadishu. (Photo Courtesy of VOA)
The U.S. deployment of troops to Somalia shows how the fight against Al Shabab has intensified.  Currently AMISOM peacekeepers are doing the best they can to fight the terrorist group, but U.S. troops will be able to train more peacekeepers and give training guidance.  Al Shabab is an affiliate of Al Qaeda and has a strong presence in much of the rural part of Somalia.  The group has staged terrorist attacks in the capital city of Mogadishu.
The U.S. troops will be deployed until September and will work alongside forces from the United Kingdom and Turkey to train AMISOM forces.  A spokeswoman for the U.S. Army's 101st Airborne Division, the division deployed to Somalia, says the command will be working "inside Somalia's borders" at the invitation of its government.  Other details were not made clear.
The U.S. intervention comes at a time when Somalia is also dealing with a record drought and humanitarian crisis.  Thousands are starving in Africa because of the drought and humanitarian assistance is needed from Somalia to Zimbabwe.
For more information, please see: 
BBC Africa – US Troops to help Somalia Fight Al Shabab – 14 April 2017
CNN – U.S. Sending Dozens More Troops to Somalia – 14 April 2017
Military Times – The Pentagon sends dozens of troops to Somalia as fight with al Shabab intenstifies – 14 April 2017
VOA – Dozens More U.S. Troops Deployed to Somalia – 14 April 2017
Author:
Samantha Netzband