By Sarah Lafen
Impunity Watch Desk Reporter, Europe
KIEV, Ukraine — Three years ago, on November 21, 2013, the people of Kiev, Ukraine took part in an anti-government protest in the streets of the city.  The events were called "Revolution of Dignity" by the victors of the protest, who successfully took power of the right-winged radicals and promises of integrating Ukraine into the European Union.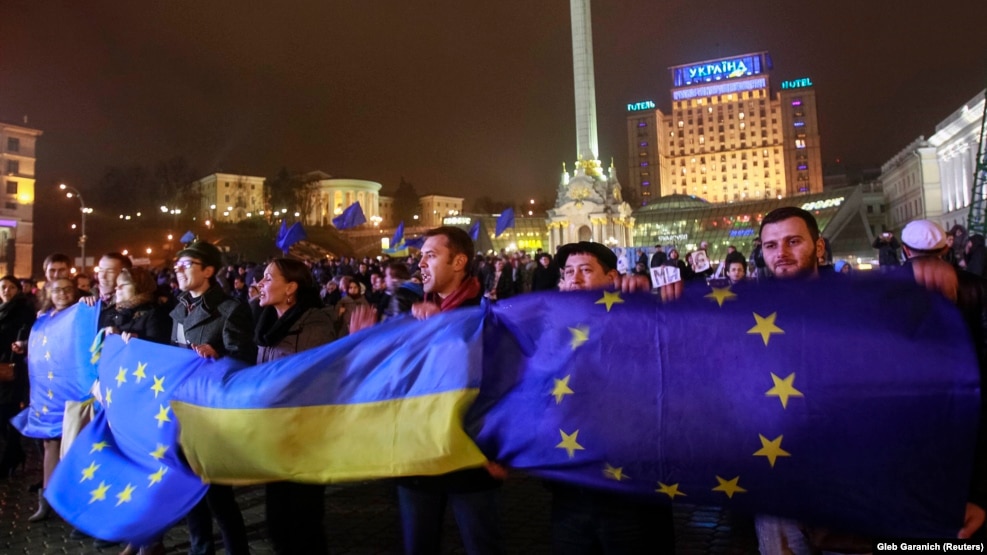 The 2013 protests, which resulted in over 100 deaths and an ousted government and president, are also known as "Euromaiden."  The Euromaiden movement started when protestors gathered in Kiev after then-president Viktor Yanukovych announced he declined to sign a trade deal with the EU and instead sought a closer economic relationship with Russia.  Protestors saw the trade deal as a path towards adopting a European standard of living, as well as possibly visa-free travel in the EU.  After the protests, Yanukovych fled to Russia and was subsequently removed from office.
This year, November 21 was declared a national holiday in Ukraine, and was given the name "Dignity and Freedom Day."  As a part of the commemorations, government officials, protest participants, clergy, youth organizations, and Ukrainian citizens held ceremonies across the country.  Flowers were placed on a monument honoring those who were killed in the protests, and a "revolution march" was organized to take place in Kiev on the holiday.
Ukrainian President Petro Poroshenko spoke at one of the ceremonies, calling on the nation to unite and stand together against the Russian "threat."  Poroshenko insisted that "[t]he Revolution of Dignity put an end to our Russian-Soviet past and the post-Soviet period.  It has separated our Ukrainian and European world from the Russian world."  Poroshenko went on to congratulate the Ukrainian citizens, and thanked them for building "our European state together!"  He stressed that since the 2013 protests, the "basis for a new Ukraine was laid."
The November 21 holiday also recognizes and honors the 2004 Orange Revolution.  The revolution also began in November, and marked the first majority vote for a pro-European Union candidate.
Approximately 21,000 law enforcement officials will be present at the ceremonies and demonstrations across Ukraine to ensure public order.
For more information, please see:
Radio Free Europe Radio Liberty — Ukraine Marks Third Anniversary Euromaiden — 21 November 2016
RT — Ukraine Marks 'Dignity & Freedom Day' as Euromaiden Dream Falters — 21 November 2016
Ukraine Today — Ukraine Marks Day of Dignity and Freedom — 21 November 2016
Ukrinform — President Poroshenko Congratulates Ukrainians on the Day of Dignity and Freedom — 21 November 2016