By: Max Cohen
Impunity Watch Reporter, South America
CARACAS, Venezuela – On June 28th the Venezuelan Supreme Court, controlled by Maduro loyalists, froze the assets of Attorney General Luisa Ortega Diaz and have banned her from leaving the country. The United Nations expressed concern over this act, and urged the Venezuelan government to abide by the rule of law and allow for peaceful protests. Attorney General Diaz stood against Maduro's government in March when the Supreme Court attempted to strip the opposition controlled Congress of its powers. She has also recently accused Maduro's government of committing "state terrorism" based on the response of authorities to antigovernment protests. Her court hearing is currently scheduled for July 4th. Attorney General Diaz has also asked the Inter-American Commission for Human Rights for protection.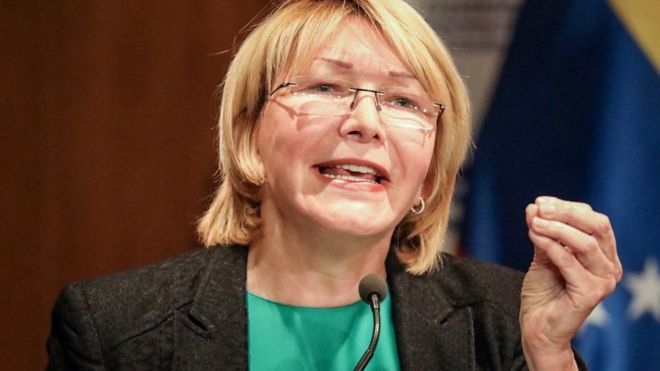 The Supreme Court of Venezuela has also attempted to strip Attorney General Diaz's powers by giving Tarek William Saab, a Maduro loyalist and ombudsman, the ability to conduct criminal investigations. Diaz has rejected the ruling, claiming that it gives the power to investigate human rights abuses to the abusers themselves.
A day after this, Attorney General Diaz's office officially charged Antonio Benavides, the former head of Venezuela's National Guard, with human rights abuses after months of protests have left approximately 80 people dead. Ortega's office has claimed that abuses by police are responsible for 23 of those deaths. Benavides was removed from his post last week, but since then he has been reassigned as head of Venezuela's Capital District government. He was also one of seven individuals sanctioned in 2015 by then US President Barack Obama for human rights abuses.
Approximately one year ago, an American named Josh Holt was arrested in Venezuela on weapons charges. Although, because he hasn't been given any preliminary hearings makes US officials doubt the reasons behind his detention. Holt had traveled to Venezuela to marry Thamara Candelo, a woman he had met online while practicing his Spanish. Currently, all that's known is that he's being held in a prison run by Venezuela's intelligence police. Maduro has blamed the United States for the protests within his country, although whether this is the reasoning remains to be seen.
For more information, please see:
The Telegraph – Venezuela's chief prosecutor asks Inter-American Commission on Human Rights for protection – 1 July, 2017
Santa Fe New Mexican – Utah man stuck in Venezuela jail – 30 June, 2017
The Atlantic – Venezuela's Ex-Security Chief Charged With Human Rights Violations – 30 June, 2017
UN News Centre – Venezuela bans Attorney General from leaving country; UN rights office voices concern – 30 June, 2017
BBC – Venezuela crisis: Attorney general banned from leaving country – 29 June, 2017