By: Brian Kim
Impunity Watch Reporter, Asia
NEW DELHI, India – On Friday, August 18th, India's spiritual guru was sentenced to 20 years in prison. India's Central Bureau of Investigation announced that Gurmeet Ram Rahim Singh was convicted of raping two of his followers. Two women accused Singh of rape at the headquarter of his sect. In India, the minimum sentence for rape is seven years.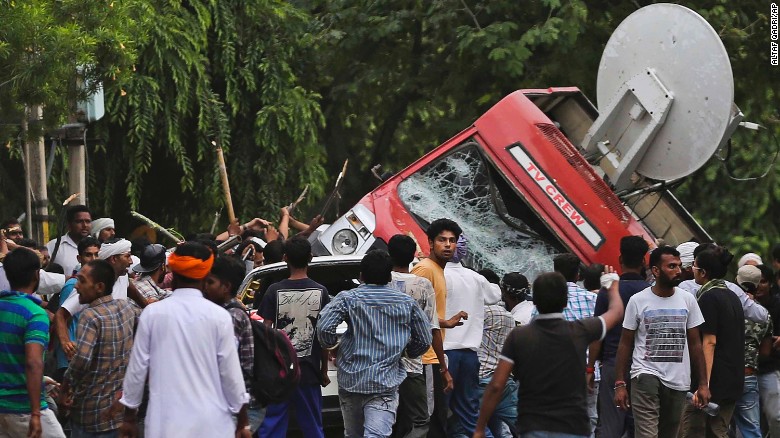 Singh, leader of the Dera Sacha Sauda sect, has an immense following in Haryana and Punjab states. He is an influential figure in the country as thousands consider him as a cult icon. Also known as "the guru of bling," he is the star of five films and many popular music videos. He currently has 3.75 million Twitter followers and claims to have 60 million worldwide followers. On his website, Singh's work is described as a "social humanitarianism and selfless services to others."
On the day of his sentencing, thousands of troops were deployed to control Singh's supporters. Since the conviction, 30 people were killed and 200 were injured when clashes occurred across northern India. Many followers came out to the streets and smashed cars, torched buses and attacked police officers. An army officer stated that the troops were deployed because "the police couldn't control the situation."
His followers mostly sit at the bottom of the social hierarchy in India. They have relied on Singh and his sect for basic needs, such as food, medicine, and a sense of equality.
Indian Prime Minister Narendra Modi reminded the Indian people on his monthly address that India was the home of "Gandhi and Lord Buddha." He went on to condemn the violence.
Singh is also facing murder charges in connection with the death of a reporter.
NYT – Violent Protests in India Turn Deadly After Guru's Rape Conviction – 25 August, 2017
The Guardian – Indian states in lockdown for guru's rape sentencing after deadly protests – 27 August, 2017
CNN – Indian guru Gurmeet Ram Rahim Singh sentenced to 20 years for rape – 28 August, 2017
NPR – After 'Guru Of Bling' Sentencing, Indian State Stays On Alert For Violence – 28 August, 2017