by Emilee Gaebler
Impunity Watch Reporter, South America
BUENOS AIRES, Argentina – Yesterday, a packed commuter train, on the Once line, crashed into the end of the train station.  Workers and rescue personnel have spent the last 24 hours freeing those still trapped in the crumpled train.  The death toll from the accident currently sits at 50 people, including 3 children.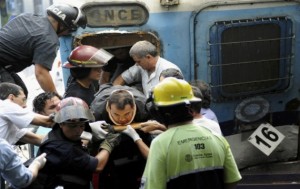 Close to 600 passengers were injured.  Hospitals in Buenos Aires have been overwhelmed both with working to give aid to those injured and with attempts to reunite family members trying to find loved ones.
Today, in remembrance of the accident, flags across the country were flown at half-mast.  They will fly at half-mast tomorrow as well.  Identification of those who were killed as well as those injured has been slow.  Many have been noted on the lists as "name unknown."
Mirta Soria, is looking for her 19-year old niece who she believes was on the train.  She thinks that her niece's wallet was lost in the accident and now she is either in a hospital or morgue.  Soria has been searching throughout the night.  "I am tired, and just have to keep going. I am waiting, and waiting, hoping that she is here," she said.  A similar sentiment that hundreds of others continue to echo.
Rescue workers had to use vaseline and oil to pull passengers out of the crumpled cars and apart from each other.  As reported by the Boston Globe, it took hours for workers to pull out over a hundred people from one area of the train where they had been compressed into a few square feet of space.
Initial reports indicate that the train's operator had difficulties with the brakes on the train throughout the morning.  The accident occurred when the train came into the station and was not able to stop.  It slammed into the barrier wall at the end of the line still going at almost 20 miles per hour.
Two cars were essentially folded into each other during the accident.  Passengers recounted that the windows broke and the tops of the train cars separated from the floors.  People were thrown out of their seats and into each other.  The train was extensively overcrowded as it was a rush-hour commuter train.  The Transportation Minister notes that during peak hours each train roughly carries 1200 to 1500 people.
The high death toll makes this the worst train accident in Argentina since February 1 in 1970, when 200 people were killed as two trains collided at full speed.  In the last 2 years there have been five other accidents involving the public transportation system in Argentina.
For more information, please see;
Boston Globe – Argentine Train Crash Toll at 50, Hundreds Injured – 23 February 2012
Mail Online – Train Crash in Argentina Kills 49 and Leaves Hundreds More Injured After Brakes Fail at Busy Station – 23 February 2012
Huffington Post – Argentina Train Accident Kills at Least 40, Injures More than 500 – 22 February 2012
BBC Mundo – La Realidad del Sistema Ferroviario de Argentina – 22 February 2012