By: Grace Terry
Journal of Global Rights and Organizations, Associate Articles Editor
NEW YORK, United States — As the COVID-19 Pandemic continues, the New York State Office for People with Developmental Disabilities (OPWDD) continues to face a worsening staffing crisis. In the final months of 2021, in the Central NY region alone, the state temporally suspended nine group homes. OPWDD has stated that the "temporary consolidation of group home is to maintain quality care and workplace conditions". The low wages of the direct support staff (DSPs) at these facilities are at the heart of the crisis and legislators recognize this ongoing problem has only been exacerbated by the pandemic.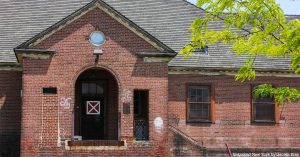 "The current staffing crisis recalls an earlier incident that happened in New York State that made its way in federal court."In 1972, a television reporter aired graphic footage from inside the Willowbrook State School, an institution designed to house children with intellectual disabilities. At its highest population, the institution housed 6,200 individuals in a building designed for 4,000 residents while drastically understaffed. This led to two class-action lawsuits, and the family members of the affected individuals sought injunctive relief to improve conditions, including hiring more staff.  The Eastern District Court of New York held that plaintiffs' right to protection from harm in a state institution had been violated and granted this injunctive relief. This case set a precedent for the requirement of humane and ethical treatment of individuals who use these types of intuitions.
In NYS ARC, Inc v. Rockefeller (1973), it was noted that the number of ward attendants was incredibly low and that the lack of competitive salaries was a factor. In the facilities' dayrooms, the staffing ratio was 1 staff member for every 15 residents. The 1964 American Association on Mental Deficiency (AAMD) standards required ratio of 1:5 for the first shift, 1:7 for the second shift, and 1:15 for the third shift at this facility. This serious understaffing caused hazardous conditions for the "health, safety, and sanity" of the residents. This included over 1,300 reports of injury, fights, patient assaults, and abuse.
The Court in NY ARC found a right to protection from harm through criminal law. When individuals are confined under criminal law, a tolerable living environment is guaranteed by law. The Court went further and held that OPWDD facility conditions are held to a higher standard, as residents in these facilities are not being constitutionally punished. The Court did not give an exhaustive list of rights, but it did note there is support for relief for violating that standard.
The appalling examples of mistreatment in the Willowbrook institutional facility led to the residents being placed in group homes, less restrictive, community-based facilities. The Court declared the department's new goal should be to "ready each resident…for life in the community at large." OPWDD and its provider agencies have since recognized that smaller group home designs are more effective and have transitioned from primarily using large institutions to group homes. These facilities have small staff to resident ratios, and a maximum capacity of 14 unrelated individuals per facility.
As of December 2021, OPWDD has stated that 57 group homes have been closed. The closures require group homes to be consolidated, increasing resident numbers without increasing staffing. As the Court stated in NYS ARC, appropriate staffing levels in required to ensure protection from harm. We need immediate action on behalf of our elected officials to rectify the staffing crisis and guarantee individuals utilizing State services are protected from harm.
For further information, please see:
CNY Central – "A workforce shortage of crisis proportions" impacting loved ones at New York group homes – 6 Dec. 2021
Disability Justice – The Closing of Willowbrook
Lohud. – Amid staffing crisis, pleas for Hochul to help New Yorkers with developmental disabilities – 5 Jan. 2022
The New York Times – Beatings, Burns and Betrayal: The Willowbrook Scandal's Legacy – 21 Feb. 2020
The New York Times – 2 Suits Call for Eventual Phase Out of Willowbrook – 18 Mar. 1972
News 10 NBC – News10NBC Investigates: NYS group homes temporarily close as OPWDD tries to fill 537 job vacancies – 30 Nov. 2021
News 10 ABC – Officials talk staffing crisis closing group homes statewide – 22 Dec. 2021
Timeline –Willowbrook, the institution that shocked a nation into changing its laws – 15 Jun. 2017
United States District Court, E. D. New York – New York St. Ass'n for Retard. Child., Inc. v. Rockefeller – 10 Apr. 1973