By: Nadia Abed & Melissa Berouty 
3Ls at Syracuse University College of Law
As an agent at The Montag Group, Kevin Belbey represents sports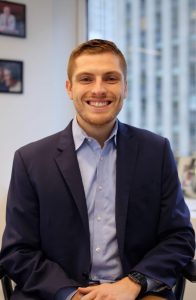 broadcasting clients from national networks to local markets. His clients include play-by-play announcers, analysts, radio hosts, writers and reporters. Kevin is a graduate of Syracuse University, where he received his bachelor's degree in Broadcast Journalism from the S.I. Newhouse School of Public Communications, his Master's Degree in New Media Management from Newhouse and his Juris Doctor from Syracuse University's College of Law.
He currently serves on several Syracuse boards including the Syracuse University Law Alumni Association, The Newhouse 44, and the Generation Orange Leadership Council. In March of 2017, Kevin was named to Front Office Sports' "Rising 25" list of up-and-coming sports business professionals. In September 2019, Kevin was the recipient of the Generation Orange Award by his alma mater, an award recognizing a young alumnus making major contributions in their field of work.  
How did you become interested in the industry you currently work in?
BELBEY: Honestly, it was trial and error. I spent a lot of time researching online, going to different networking events, and seeing guest speakers on campus. Some of the best advice I ever got was "the key to figuring out what you want to do is first figuring out what you do not want to do." I had so many conversations with media attorneys, broadcasters, trial attorneys, and agents in different fields. With every conversation, I really tried to learn what their day-to-day was like to see if it was something that might interest me long term.
I tried to collect as much knowledge as I could. After doing so, I looked to get first-hand experience. While in law school, I did the Washington D.C. externship program and interned with the FCC. This position led me to intern with CBS in their legal department. These two opportunities in law school were highly formative in leading me towards what I wanted to do.
How has the sports media industry been impacted by the pandemic?
BELBEY: It has been totally rocked. For a while, there had been no sports. During this time, so many of our clients were sitting on their couch watching Tiger King like the rest of us. They want to work, but when there are no games or stories to report on, it becomes difficult.
Obviously, there are more pressing things going on in the world with more cases and tragic deaths. It's important to keep that in perspective. A lot of our clients are paid per game and have filed for unemployment after going a span of five months with no games. It's been a whirlwind and something that is evolving daily. I think our industry is truly taking it day by day.
You mentioned the unemployment rate, which continues to soar. Is this something that has impacted your industry hard?
BELBEY: It's been very tough. In our business, summer is a very healthy time and full of new job opportunities. Outside of baseball, summer is typically an off time for sports. Basically, at this time, networks would be preparing for sports to come back. Right now, there a lot of changes in terms of talent, new shows being developed, and plans being made for the fresh seasons. Typically, the summer is when we are negotiating a large number of contracts. However, it's been very quiet on the deals front as many of the networks do not want to offer contracts unless there is a guarantee there will be games.
Even for the people who still have their jobs, nearly everyone in our industry has taken pay cuts. On-air talent for FOX Sports, NBC Sports, ESPN, and NFL Network have all taken pay cuts to salaries that they have already agreed to. While they are voluntary, I think everyone is trying to be a team player and do the right thing.
With the world becoming increasingly more virtual, how has contract negotiation and general client interaction been for you?
BELBEY: We are pretty much living our life on Zoom these days. We have company meetings at 10:30 AM every morning where we provide updates on the deals we are working on, people we are talking to, and clients we are prospecting. At this point, I try to do as many Zoom calls as I can to get closer to the feeling of in-person interaction.
It is interesting to see different companies and organizations use different technology. For example, NBC sports are big Microsoft Teams people. We really are doing everything we can to make up for the lack of in-person interaction.
During the time that games were not being held, what was your concern and what were the concerns of your clients?
BELBEY: Networks are hesitant to make commitments right now. For the last five months, a lot of networks have been paying people to essentially not work. Right now, people who would usually have had new contacts by now are left waiting to see how the NCAA and these networks will operate moving forward. From there, we will be left with the question of where talent fits in.
Talent is being put on the back burner until everything else is figured out. This is tough. They have kids and families to support. Aside from the money, talent relies on the benefits particularly the health insurance during the pandemic as everyone else in the country has been. In this cloud of uncertainty, I give a lot of credit to our clients for being patient.
With more games expected to be televised, do you see an increase in the need for broadcasters?
BELBEY: I genuinely hope that is the case. I hope that this industry starts booming and there are more job opportunities. On the other hand, I can see a continued use of remote production. Typically, sports broadcasters are on sight at the stadium. Now, some games are being called out of the studio or even broadcaster's own homes.
As we remain virtual in our day-to-day operations, we see the same thing happening with broadcasters. If this continues, it will actually lead to a decrease in jobs. If you are calling one college football game on the weekend and need to travel the day before and after, you are calling just one game. However, if you are just calling it out of your basement, maybe you can call two to three games in a weekend. This may lead to less opportunity and allow networks to save money.
What do you see the future of sports media looking like moving forward?
BELBEY: My hope is that we tread water and stay afloat for the next six to eight months. By then, hopefully, we will be discussing a vaccine, fans returning to stadiums, and the Olympics next summer. In the meantime, we as an industry just need to hang tight.
Is the new norm to have broadcasters conduct their work offsite?
BELBEY: The benefit for broadcasters that are on-site is that there are one to two other people in the radio booth with them. This allows them to practice social distancing. Before our broadcasters go back to work, they want to ensure that there is a health and safety plan. For our broadcasters on-site, they need to be provided with information like how they will get there and where will they stay. This then adds another question of whether the overnight amenities are safe and what is the health and safety plan inside the arena. Thankfully, overall, there are fewer people inside stadiums, so you are able to keep your distance.
Are these safety considerations accounted for contractually? If not, are these considerations that will come into play during contract negotiation moving forward?
BELBEY: I think networks have an inherent responsibility to offer broadcasters a safe work environment. However, this is definitely something that could change moving forward. One thing that we have seen in contracts more than ever is the phrase force majeure.  Frankly, this is something we always reviewed, but never really expected to carry this type of weight. Now, we are reading these clauses twenty times over given their weight.
Do you have any advice for law students trying to network during this time?
BELBEY: In law school and college, I would exchange emails and get on the phone with people in various industries. One thing I always knew was that I was not that memorable to them. There are so many emails and phone calls that are happening all day long. This makes it difficult for people to remember you. The best way to network is to grab lunch or a coffee. Obviously, you cannot do that right now, but what you can do is ask someone to grab coffee over Zoom. Honestly, if someone asked me to meet over Zoom six months ago, I would have thought it was weird. But today, this is the way we conduct our business. While there might be people that say no, I do believe face-to-face interactions are more memorable. I think this is a way you can stand out. This is what I would do.
At the end of the day, the vast majority of jobs are based on who you know, not just applying online. This is how I got my job. So, I would encourage law students to put themselves out there.
This interview has been condensed and edited for length and clarity.