By: Rachel Brenner
Journal of Global Rights and Organizations, Associate Articles Editor
BANGKOK, Thailand – Recent pro-democracy demonstrations have put a spotlight on Thai authorities pressuring them to allow peaceful protests, end police crackdowns on nonviolent demonstrations, and stop the repeated use of serious criminal charges against individuals exercising their right to freedom of expression. Since demonstrations organized by the People's Movement began on July 18, 2020, the Thai government and police have shown increased hostility toward protestors. Protestors are calling for the drafting of a new constitution, an end to harassment for exercising freedom of expression, and the dissolution of parliament.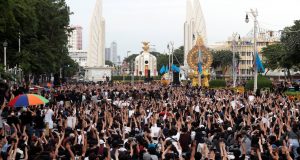 On November 17th, police in Bangkok used water cannons laced with purple dye and teargas chemicals, teargas grenades, and pepper spray in an attempt to prevent peaceful protestors from reaching the national parliament. Demonstrators had planned to protest outside the parliament as debates over proposals for seven different constitutional amendments were underway. The Erawan Medical Centre in Bangkok reported at least 55 injuries, most of which resulted from teargas inhalation.
On November 18th, the spokesperson for the UN Secretary-General "expressed concern regarding the human rights situation in Thailand." He emphasized that the Thai government must refrain from the use of force and ensure the full protection of Thai people who exercise their right to peaceful assembly. UN guidance on less-lethal weapons in law enforcement states that "water cannons should only be used in situations of serious public disorder where there is a significant likelihood of loss of life or injury," and should only be used to the extent required to achieve a legitimate policing objective. In 1996, Thailand endorsed the International Covenant on Civil and Political Rights, which protects the right to freedom of expression and peaceful assembly. However, Thailand has consistently subdued discussions about human rights and public reforms.
Thailand's royal family is protected by one of the world's strictest defamation laws, known as lese majeste law. This controversial law, which is punishable by a maximum of 15 years in prison, prohibits defaming, insulting or threatening the royal family. Between July and November 2020, Thai Lawyers for Human Rights noted that at least 175 protestors had been prosecuted for taking part in political demonstrations. Many protestors face illegal assembly penalties, while some protest leaders face a more serious sedition charge. Additionally, at least five pro-democracy leaders face accusations of lese majeste in connection with the demonstrators' call to reform the monarchy.
The lese majeste charges against pro-democracy leaders were the first time since 2018 that the law has been enforced, indicating that the Thai government is becoming increasingly frustrated with pro-democracy demonstrations. A senior researcher on Thailand at Human Rights Watch states that "as pro-democracy protestors break the longstanding taboo that prohibits Thai people from criticizing and challenging the monarchy, reactions from the state are becoming harsher." The UN expressed concern over the charges, which inhibit the exercise of free speech, and urged the Thai government to amend the lese majeste law. Regardless of the government's intolerance to listen to the demonstrators, these charges are unlikely to stop the movement due to the protestors' outrage with Thailand's outdated political system. 
For further information, please see:
Amnesty International- What's Happening in Thailand: 10 things you need to know- November 6, 2020
CNN- Thai protest leaders report to police on charges of insulting the monarchy, as authorities' tolerance wears out- November 30, 2020
CNN- Thousands protest in Bangkok after Thai parliament votes on constitutional reform- November 18, 2020
Statement by International NGO's on Pro-Democracy Protests on November 17 and 25, 2020- November 25, 2020
UN News- Thailand: UN rights office deeply troubled by treason charges for protests- December 18, 2020