By Justin Dorman
Impunity Watch Reporter, Middle East
TEHRAN, Iran – The Sakharov Prize is one of the top honors awarded to those annually for their contributions to human rights and freedom of thought. Previous winners include figures like Nelson Mandela and Aung San Suu Kyi. This year the award was given to Nasrin Sotoudeh and a fellow Iranian, film director, Jafar Panahi.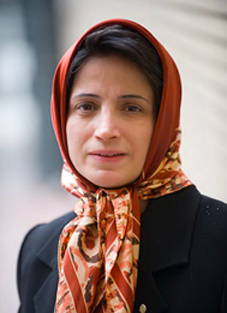 Nasrin Sotoudeh is a member of the Defenders of Human Rights Centre and is a jailed attorney who previously was known for defending children facing the death penalty, prisoners of conscience, human rights activists, and child victims of abuse. Currently, she is serving a six-year sentence for "acting against national security" and "spreading propaganda against the regime." Many believe her arrest to be completely arbitrary and understand her imprisonment to be part of the Iranian government's plan to suppress human rights lawyers.
Sotoudeh has been imprisoned since September 2010. For much of her detainment she was held in solitary confinement and tortured in attempts to make her confess. During this time she was kept away from her family and lawyer. Sotoudeh is no longer in solitary confinement, however, she is still often denied contact with her family.
"The conditions of detention imposed on Nasrin Sotoudeh are unacceptable and clearly aim at imposing additional punishment on her for her human rights activities," stated Souhayr Belhassen, President of the International Federation for Human Rights.
Sotoudeh was caught writing her legal defense on a tissue, and ever since she has been denied face-to-face meetings with her family. Now she can only see her thirteen-year-old daughter and five-year-old son from behind a glass wall.
Authorities have taken other measures to punish the Sotoudeh family. One action they took was to change her visiting day from Sunday to Wednesday without proffering and real reason. The authorities have also placed travel bans on Nasrin's daughter and husband and have held the husband in jail, overnight, for peaceful protests of his wife's detention.
Ann Harrison, Deputy Director of Amnesty International's Middle East and North Africa programme believes that, "[b]y harassing the family members of prisoners solely in order to stop their legitimate public campaigning, the Iranian authorities are trampling wholesale on their international human rights obligations."
In reaction to the harassment her family was facing, Sotoudeh began a hunger strike on October 17th which still continues. She wrote to her children in a letter, "I know that you require water, food, housing, a family, parents, love, and visits with your mother. . . However, just as much, you need freedom, social security, the rule of law and justice."
For further information, please see:
Amnesty International – Health Fears for Imprisoned Sakharov Prize Winner in Iran – 26 October 2012
Daily Beast – Iran's Crackdown on Human Rights Lawyers – 26 October 2012
Guardian – Nasrin Sotoudeh and Director Jafar Panahi Share top Human Rights Prize – 26 October 2012
Iranian – Nasrin Sotoudeh: Prisoner of the day – 22 October 2012