By Emily Schneider
Impunity Watch Reporter, Middle East
CAIRO, Egypt – Egyptian President Mohamad Morsi is still under attack for granting himself sweeping powers as protests continue. Now, the opposition has refused to open a dialogue with him.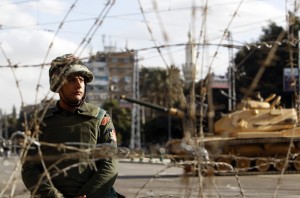 President Morsi invited all major political factions to meet Saturday to begin talks regarding the Presidential decree reducing the Judiciary's power. In that decree, issued on 22 November, President Morsi stripped the Judiciary of any power to challenge his decisions until the new constitution is ratified. Since then, Egypt has been in political turmoil.
This past Thursday, President Morsi refused to withdraw his new powers and delay a referendum on the draft constitution. Instead, President Morsi confirmed that the referendum on a new constitution will go ahead as planned, on the  December 15. He says that if the constitution is  voted down at that time, another constituent assembly will be formed to write a new draft.
The current draft, drawn up by a body dominated by Morsi-supporting Islamists, did not receive a proper review by parliament, according to critics. Opposition to the current draft point out that it may not give enough protection to political and religious freedoms and dos not protect the rights of women.
The main opposition movement, the National Salvation Front, said on Friday it would not take part in Saturday's talks.
"The National Salvation Front is not taking part in the dialogue, that is the official stance," spokesman Ahmed Said confirmed in a statement.Nobel prize winner Mohamed ElBaradei, the movement's chief coordinator, posted a message on his Twitter account calling on political groups to not participate in any dialogues with President Morsi. He said,  "we [want] a dialogue not based on an arm-twisting policy and imposing fait accompli," in his message on Twitter.
Other opposition groups, the liberal Wafd party and the National Association for Change, also claimed they are boycotting the talks.
The April 6 movement, an activist group that played a major role in last year's revolt against former President Hosni Mubarak, said on its Facebook page that protests on Friday would deliver a "red card" to Mr Morsi.
Protests have taken place in Egypt since Morsi's decree and the constitution draft has caused tension to heighten and divisions to widen. New clashes have been reported on Friday between supporters and opponents of President Morsi outside a mosque in the city of Alexandria.
US President Barack Obama called President Morsi to express his "deep concern" over the recent violent protests, the White House said. Although President Obama welcomed Mr Morsi's call for talks, he stressed they should be "without preconditions."
For more information, please see: 
Al Jazeera – Egypt Opposition Rejects Morsi Dialogue Offer – 7 Dec. 2012
BBC – Egypt Opposition Rejects President Morsi's Call for Talks – 7 Dec. 2012
CNN – Opposition Demonstrators again Gather to Challegen Egypt's Morsy – 7 Dec. 2012
USA Today – Egypt Opposition Calls for More Protests – 7 Dec. 2012