By Ellis Cortez
Impunity Watch Reporter, South America
CARACAS, Venezuela – Venezuelan authorities have arrested 17 people in connection with a shipment of 1.3 tons of cocaine in an Air France flight from Caracas to Paris.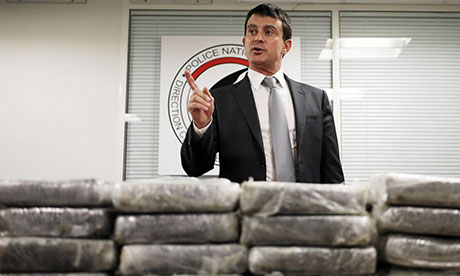 The Venezuelan Attorney General's Office said eight members of the National Guard and nine Air France and airport staff have been detained on drug charges. In addition, three Italians and two Britons were arrested in France.
The flight originated at Simon Bolivar International Airport in Caracas, the Venezuelan capital. The drugs arrived at Charles de Gaulle Airport in Paris on September 11. French authorities discovered the 1.3 tons of pure cocaine stuffed inside 31 suitcases registered under false names that did not correspond to passengers on the flight.
French authorities have called it the country's largest cocaine bust ever, with an estimated value of $270 million. They worked with Spanish, British and Dutch police on the investigation. French Interior Minister Manuel Valls said, this case "illustrates the importance of strengthening International cooperation in the fight against traffickers."
Air France said it was still trying to find out how the drugs were smuggled on board. "Pending the results of these investigations, immediate measures have been taken to enhance our checks of baggage and goods on departure from certain sensitive destinations," the airline said in a statement.
Venezuelan Interior and Justice Minister Miguel Rodriguez Torres told reporters in Venezuela that authorities think an organized crime group with Italian and British members is responsible for the shipment. "The suitcases were not taken into the plane through the regular baggage platforms at the airport. We're investigating how the drug (shipment) got to the airport," he said.
The United Nations Office on Drugs and Crime says Venezuela does not produce sizeable quantities of cocaine, but drug traffickers are increasingly using its territory to smuggle drugs from Colombia, Peru, and Bolivia to other nations.
The U.S. government has accused Venezuela of failing to adhere to international efforts against drug smuggling, and also charges that high-ranking military personnel have benefited from narcotics trafficking. Venezuela denies those charges and highlights its frequent announcements of drug seizures as proof of their progress in combating the illicit trade.
For more information please see:
BBC – Venezuela arrests 22 over cocaine in plane to Paris – 27 September 2013
CNN – Arrests made in Air France flight cocaine case – 25 September 2013
Fox News – Venezuela arrests 22 in Air France cocaine bust – 25 September 2013
The Wall Street Journal – Venezuela Makes More Arrests in Probe of Smuggling Aboard Jetliner – 25 September 2013
The Guardian – Cocaine seizure: three Britons arrested in Paris, Venezuela says – 23 September 2013