By Darrin Simmons
Impunity Watch Reporter, Middle East
DAMASCUS, Syria-A new report has been released, uncovering the overwhelming death count of children in Syria, especially those who have been killed by sniper fire.  Titled Stolen Futures – the Hidden Toll of Child Casualties in Syria, the report examines data from March 2011 to August 2013, in the midst of the Syrian conflict.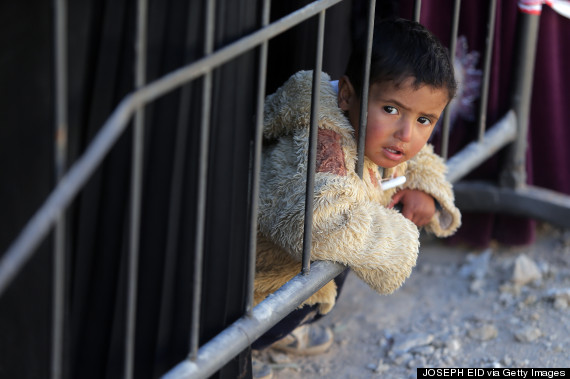 Details of the report confirm that during the conflict there have been 11,420 victims aged 17 and under with 389 of them being killed by sniper fire.  Nearly 764 of the victims were executed, and more than 100, including infants, were tortured.
Hana Salam, a co-author of the report, said the method of the child killings was horrifyingly disturbing, stating they were "Bombed in their homes, in their communities, during day-to-day activities such as waiting in bread lines or attending school.  Shot by bullets in crossfire, targeted by snipers, summarily executed, even gassed and tortured."
Hamit Dardagan, another co-author, stated, "This study shows why explosive weapons should never be used where children live and play, how older children quickly become ttargets ina war and even the youngest suffer its worst abuses."
"This grim and terrible record also shows why a sustainable peace, not more bombs and bullets, is the only way to guarantee the safety of children.  All conflict parties need to take responsibility for the protection of children, and ultimately find a peaceful solution for the war itself," Dardagan further said.
In creating the report and drawing official figures, Salam and Dardagan used Syrian databases of casualty reports obtained by the United Nations.  They also looked closely at the age of the victims and the way they were killed and stressed that it might be incomplete due to the difficulties in receiving accurate data during times of conflict.
The report further stated that among the dead, boys outnumbered girls almost two to one.  Boys aged 13 to 17 were the most likely victims of targeted killings. The report concludes saying that the conflict has created a catastrophic effect on Syrian children and all sides must refrain from targeting civilians and buildings such as schools, hospitals, and places of worship.
Aleppo, the Syrian city with the highest child deaths, had 2,223 children killed mainly by bombs or shells in their own neighborhoods.  More than 120 children were killed during a chemical weapons attack in the city of Ghouta on August 21st.
The United Nations has estimated that more than 100,000 people have been killed during the Syrian Conflict.
For more information, please see the following: 
Global Dispatch-Over 11,000 Children Killed In Syria's Civil War, Hundreds Targeted By Sniper-25 November 2013
Global Post-11,000 children killed in Syrian conflict, hundreds targeted by snipers, report says-24 November 2013
Huffington Post-11,000 Syrian Children Killed In Bombings, Sniper Fire, Or Executed, Report Finds-24 November 2013
BBC News-Syria conflict: Children 'targeted by snipers'-23 November 2013