By: Danielle L. Cowan (Gwozdz)
Senior Desk Operator, Africa
ABUJA, Nigeria – At least 18 people have been killed in an explosion at a market in Maiduguri, north-eastern Nigeria, a medical worker told BBC news.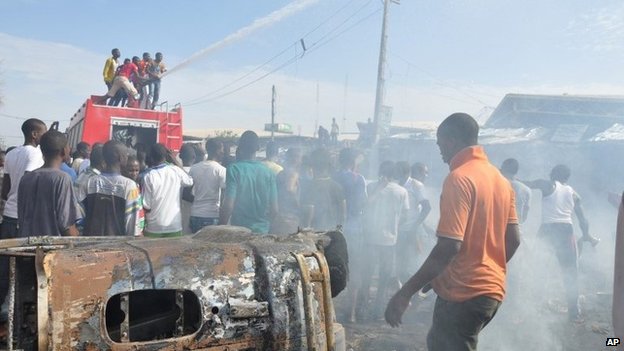 The explosives were reportedly hidden in a vehicle carrying charcoal.
It is believed that Boko Haram has carried out the attack, though no group has stepped forward and claimed this violent bombing. Maiduguri is the center of Boko Haram's violent campaign.
This same group is the one linked to the 200 schoolgirls kidnapped.
"A van loaded with charcoal and IED (improvised explosive device) exploded at Monday Market in Maiduguri this morning. The location has been cordoned," the defense headquarters stated on its Twitter account.
The vehicle exploded into a huge fireball, AFP further added.
About 55 people were injured due to the explosion.
One resident, Babagana Hausari, told BBC that "I heard a very loud explosion right from my house and rushed to the place."
He further added, "When I got there I saw many people lying after they were hit by explosives."
One student who rushed to the scene said "I saw police and troops picking out victims."
Several vehicles were damaged due to the bombing, including the driver of the vehicle carrying the charcoal and the bomb.
After the accident, Nigeria's military stated it raided a Boko Haram intelligence unit thought to be linked to the abduction of the schoolgirls.
The Boko Haram cell leader was arrested.
The cell leader has not commented on the allegations of the bombing.
This year alone, more than 2,000 people have been killed in attacks blamed on the Boko Haram militants.
For more information, please visit:
BBC News – Nigeria's Boko Haram crisis: Deadly bomb hits Maiduguri – 1 July 2014
Tert.am – Nigeria's Boko Haram crisis: Deadly bomb hits Maiduguri – 1 July 2014
The Sun – Boko Haram crisis: Deadly bomb hits Maiduguri – 1 July 2014
NewsBreakNigeria – Nigeria's Boko Haram crisis: Deadly bomb hits Maiduguri – BBC News – 1 July 2014