By Max Bartels
Impunity Watch Reporter, Oceania 
Suva, Fiji 
Fiji is set to have their first democratic election since the military coup of 2006 and many are nervous that the elections will change nothing. Military leader Frank Bainimarama seized power in 2006 and has been the nation's dictator ever since, he has now stepped down from that role and runs as a candidate in the presidential elections taking place next month. There are mixed feelings about Bainimarama's time in power, many Fijians praise his efforts to improve the standard of living for the islanders others found his style of rule oppressive. There have been many reports of human rights abuses under Bainimarama's watch that is why Fiji has asked for outside help to observe the elections and ensure that there is no corruption involved and the will of the people is effectively implemented.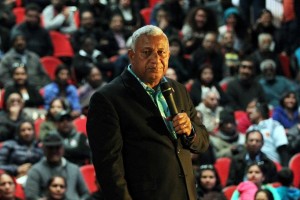 Australia has been invited by the interim Fijian government to co-lead the Multinational Observation Group (MOG) along  Indonesia, Papua New Guinea and India. Many other nations have also been invited and are in the process of sending observers including Israel, South Africa, Brazil, Russia, Turkey, Japan, South Korea, New Zealand, Iran and the U.K. Canada and the U.S have also been invited to send observers and have expressed interest in doing so. Australia is especially excited to participate in the election according to Peter Reith, the appointed head of the observational group, Australian are keen to repair relations with Fiji since the 2006 coup.
The observation group is said to be given complete freedom of movement across Fiji and complete access to deal with the Fijian Government, political parties and organizations. Two reports will be issued as a result of the operation, one will be issued immediately after the election, the other will be released within two months of the election. The first is focused on whether the election was effective and allowed the Fijian people to represent their will. The second will contain recommendations as to how the Fijian Government can be more effective in implementing elections in the future. The point of both is to provide confidence in the results not just for the Fijian people but for the international community as well.
Bainimarama stated recently during a campaign trip to New Zealand that he will accept the results if the election goes against him. He swore to upheld the newly created constitution that protects Fiji from another military coup. The MOG is already on the ground in Fiji observing the political parties, candidates and preparations for the elections.
For more information, please see:
The Fiji Times — Watch and Improve — 27 August, 2014
ABC News — Elections: Australia to Co-Lead Multinational Observation Group with Indonesia, India and PNG — 15 August 2014 
ABC News — Interim Prime Minister Frank Bainimarama Pledges to Accept Election Results During NZ Visit — 11 August 2014
ABC News — Fiji Leader Frank Bainimarama Greeted by Protesters Outside Sydney Election Rally — 23 August 2014