By Delisa Morris
Impunity Watch Reporter, South America
BRASILIA, Brazil — Levy Fidelix marred his presidential race by reciting a homophobic rant during a presidential debate on Sunday.  Levy Fidelix is a conservative and former journalist who has no hope of winning, with a support rate below 1%. But given almost equal airtime to the leading candidates on national television on Sunday, he let rip with a torrent of invective.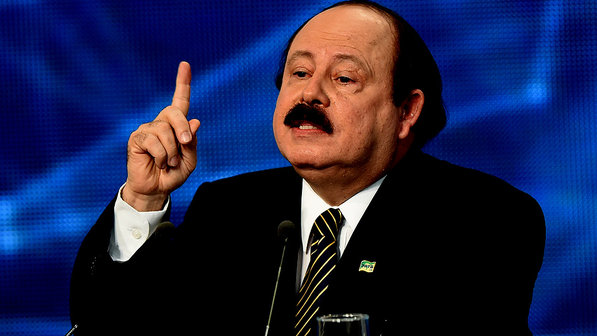 The presidential hopeful claimed homosexuals "need psychological care" and were better kept "well away from [the rest of] us".  He also joked that Brazil's population would be cut in half if homosexuality was encouraged because "the excretory system" does not function as a means of reproduction.
The three other opponents did not comment on Fidelix's statements, but his statements were the talk of social media following the event.
The incident shows the challenge of maintaining fairness throughout Brazil's complicated election process.  While there are 12 people running for President, only seven of them got to participate in the debate, due to their parties being represented in Congress.  Out of the seven, four candidates, including Fidelix, consistently poll less than 1%.  Therefore, even though they have little to no chance of winning the election, they are allowed equal coverage during the debate.
Fortunately enough, the debate was broadcast live at midnight, on Sunday, while most people were sleeping.
Nevertheless, the campaign has been largely compelling and remains too close to call. According to the most recent polls, Rousseff will win the first round on 5 October and then face a run-off with Silva on 26 October. Second-round vote intentions have swung back and forth between the two, though the president recently opened up a narrow lead.
This close to an election (Brazil's presidential election is next week), most publics expect to hear about front-runners government programs, and rely on them to highlight any weaknesses in their opponent's programs.  This debate should have been that opportunity.  Instead the leading candidates relied on character attacks throughout the debate.
Rousseff accused Silva of falsely claiming that she supported the tax on financial transactions, even though she voted against it four times. Political adverts during the commercial break tried to reinforce this message of "Marina the liar". The president said she was the most reliable and experienced of the candidates. "I humbly beg your vote," Rousseff said.
Neves attacked Rousseff over a corruption scandal at the nation's biggest company, Petrobras. But his performance was unlikely to lift him beyond third place.
The four fringe candidates stole the show with punchier lines and more radical viewpoints.  That left televangelist pastor Everaldo Pereira, who is running on an anti-abortion, anti-gay rights platform, came across as relatively moderate in comparison with Fidelix.
For more information, please see:
the guardian – Brazil presidential candidate airs homophobic rant during TV debate – 29 Sept. 2014
ABC News – Anti-Gay Remarks at Debate Spark Anger in Brazil – 29 Sept. 2014
Huffington Post – Levy Fidelix, Brazilian Presidential Candidate, Sparks Anger with Anti-Gay Remarks –  30 Sept. 2014
On Top Magazine – Brazil Presidential Candidate Levy Fidelix Claims Gays' Need Psychological Care – 30 Sept. 2014