By Max Bartels 
Impunity Watch Reporter 
Suva, Fiji
Fiji has completed their first democratic election in eight years, after a bloodless military coup seized power in 2006. The coup was lead by then Rear Admiral Frank Bainimarama, who has now been voted into office as Prime Minister to continue to lead Fiji. The final polls show that Bainimarama and his "Fiji First Party" won 59% of the vote and the opposition, the "Social Democratic Liberal Party" came in a  distant second with 28% of the vote. Over the years Fiji and the military government headed by Bainimarama have been accused of many human rights violations by Amnesty International and other human rights groups but the majority of the Fijian people have continued to support Bainimarama despite these accusations.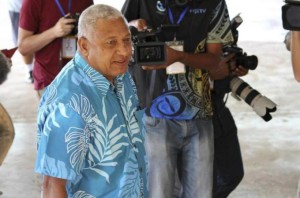 In 2006 Bainimarama claimed the coup was to cure rampant corruption and protect the ethnic Indian population of Fiji from racial discrimination. Bainimarama also emphasized the improvement of Fiji's infrastructure during his time in power, which is one of the major reasons for his support amongst the Fijian people. The international community reacted to the coup by enacting sanctions and travel bans on Fiji. In the run up to the elections the sanctions and the travel bans were lifted as Fiji committed to a return to democracy.
An international observation group was sent to Fiji to monitor the election process and evaluate its validity for corruption and foul play. As the votes were being counted opposition groups to the "Fiji First Party" claimed foul play occurred in the election. The opposition groups claimed their own observers reported missing ballot boxes, boxes that seem to be opened and more votes at polls than registered voters. However, the observers of the international group claim that the results can be relied on to "broadly represent the will of the Fijian voters." The opposition is reported to be considering filing a complaint about the results of the election. Bainimarama has since claimed victory in the election and addressed the people in Fiji's capital, Suva, stating he is honored the people chose him to lead the new government and the Fijian people. While most of the sanctions and travel bans have been lifted there are still many nations that have yet to re-enter into diplomatic relations with Fiji.
For more information, please see:
ABC News — Fiji Election: Frank Bainimarama Claims Victory, Says he is Deeply Honored and Humbled — 21 September 2014
The Wall Street Journal — Bainimarama Claims Victory in Fiji Elections — 21 September 2014
The Wall Street Journal — Fiji Election Hit With Fraud Accusations — 18 September 2014
Al Jazeera — Fiji Coup Leader Declares Poll Victory — 21 September 2014