By Max Bartels
Impunity Watch Reporter, The Middle East 
Islamabad, Pakistan 
Last week Taliban gunmen stormed a school run by the Pakistani army, they shot and killed 149 people including 133 school children. In the wake of this attack Pakistan has decided to reinstate the death penalty for terrorism cases. The public outrage over the Peshawar shooting has driven Prime Minister Nawaz Sharif to end a six-year moratorium on the death penalty. The Pakistani government now plans to use the punishment on around 500 militants who have been convicted on charges of terrorism.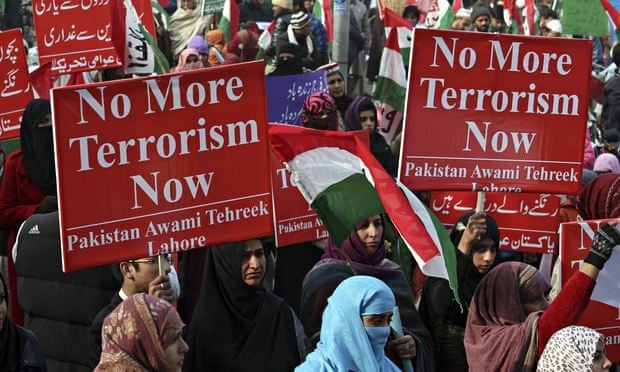 So far six convicted terrorists have been executed. Two were executed on December 19th and four more on the 21st. The four executed on the 21st were convicted of terrorism charges for their attempted assassination of then military leader Pervez Musharraf with a suicide car bomb. While one of the two executed on the 19th was convicted of an attack on army headquarters in 2009.
The Prime Minister had directed the Pakistani Department of Justice to pursue terrorism related cases and prepare them for capitol punishment. Of the 500 cases chosen, all of the convicts have exhausted their appeals and their mercy petitions have been denied. All 500 executions have been scheduled over a period of the next two weeks.
While the Pakistani public has pushed for the government to take a hardline against the Taliban, in the aftermath of the Peshawar shooting, Pakistan faces international pressure regarding their new anti-terror punishment. There are several economic and political implications to the executions, it dangers an E.U. trade deal, pressure from the U.N. as well as pressure from human rights groups around the world.
Several specific cases have been brought to the media's attention in an attempt to halt the executions, The U.N. has released that one of the convicted terrorists already executed was a Russian citizen and appeals to Pakistan to avoid a potentially dangerous diplomatic situation by executing more civilians, many of which are foreign citizens. Human rights groups have released the story of one of the condemned terrorists who was only 14 at the time he was convicted of kidnap and murder and has since retracted his confession, saying it was the product of nine days of police torture. Regardless of the international pressure to halt the executions, the domestic pressure stemming from the outrage over the Peshawar school shooting has decided the matter and there is no sign Pakistan will halt any executions.
For more information, please see:
The Sydney Morning Herald — Four Militants Hanged in Pakistan, More Executions to Come — 22 December, 2014
SKY News — Pakistan to Execute 500 Terror Convicts 22 December, 2014
BBC News — More Executions After Peshawar School Massacre — 21 December, 2014
The Guardian — Pakistan Hangs Four More Prisoners as Execution Campaign Widens — 21 December, 2o14