By Kathryn Maureen Ryan
Managing Editor, Impunity Watch
DAMASCUS, Syria – The future remains bleak for the millions of Syrians displaced by Syria's prolonged civil war as the conflict enters its fifth year. According to the United Nations High Commissioner for Refugees (UNHCR) conditions for internationally displaced persons and refugees and the political situation in the country continues to deteriorate as the war rages and the conflicts victims fail to receive international support. "With no political solution to the conflict in sight, most of the 3.9 million Syrian refugees in Turkey, Lebanon, Jordan, Iraq and Egypt see no prospect of returning home in the near future, and have scant opportunity to restart their lives in exile," a UNHCR statement released in Geneva said.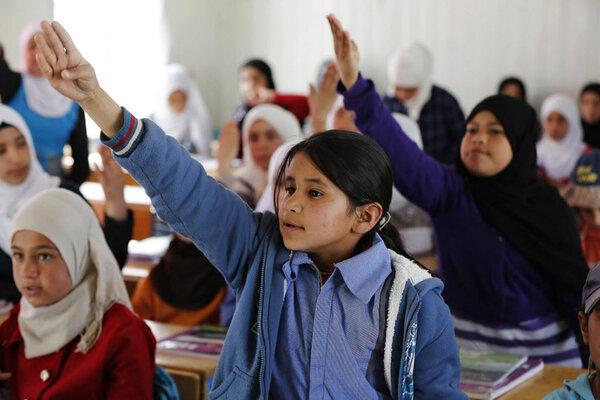 "More and more Syrians are losing hope. Thousands have tried to reach Europe by taking often deadly land or sea routes after paying their life savings to smugglers. Many have not made it. Those who do, face rising hostility as refugees are conflated with security concerns in a climate of rising panic," the UNHCR statement said.
A recent survey of 40,000 Syrian families living as refugees in urban areas of Jordan determined that two-thirds were living below the absolute poverty line. United Nations High Commissioner for Refugees António Guterres said much more must be done to address the plight of Syrian refugees. "After years in exile, refugees' savings are long depleted and growing numbers are resorting to begging, survival sex and child labor. Middle-class families with children are barely surviving on the streets: one father said life as a refugee was like being stuck in quicksand – every time you move, you sink down further," he said. "This worst humanitarian crisis of our era should be galvanizing a global outcry of support, but instead help is dwindling. With humanitarian appeals systematically underfunded, there just isn't enough aid to meet the colossal needs – nor enough development support to the hosting countries creaking under the strain of so many refugees," Guterres added.

In December, the United Nations began the largest aid appeal ever for $8.4 billion that if fully funded, would provide for the basic needs of refugees. The program would offer support to host communities to bolster their infrastructure and services utilized by refugees escaping a conflict whose end is not in site. "Further abandoning host countries to manage the situation on their own could result in serious regional destabilization, increasing the likelihood of more security concerns elsewhere in the world," Guterres stressed.
Five years of war have taken a particularly devastating toll on the conflict's smallest victims, many of whom are too young to remember a time of peace. Approximately 14 million children in Syria and Iraq now live every day in the shadows of war facing extreme violence, the hardships of displacement United Nations Children's Fund (UNICEF), the United Nations agency charged with promoting the welfare of the children worldwide. "As the crisis enters its fifth year, this generation of young people is still in danger of being lost to a cycle of violence – replicating in the next generation what they suffered in their own," said UNICEF director Anthony Lake. More than 2.6 million Syrian children are out of school and many more are now receiving education from extremist groups like the Islamic State of Iraq and the Levant (ISIS) which has begun teaching its extremist ideology in local schools and has forced young boys to become child soldiers.
For more information please see:
Al Arabiya – 14 million children suffering from Syria and Iraq wars: UNICEF – 13 March 2015
The Christian Science Monitor – As Syrian civil war enters fifth year, especially hard challenges for children – 13 March 2015
National Public Radio – Drawn-Out Syrian Civil War Spawns A Literal Dark Age – 12 March 2015
United Nations High Commissioner for Refugees – UNHCR warns of bleaker future for refugees as Syrian conflict enters 5th year – 12 March 2015