By Brittani Howell
Impunity Watch Reporter, Middle East
SANA'A, Yemen – The Saudi-led coalition announced Saturday that a five-day humanitarian ceasefire was to begin at 11:59pm Sunday in Yemen. The Saudi-coalition stated, however, that they would respond to any attacks or military movements made by the Houthi rebels during the ceasefire.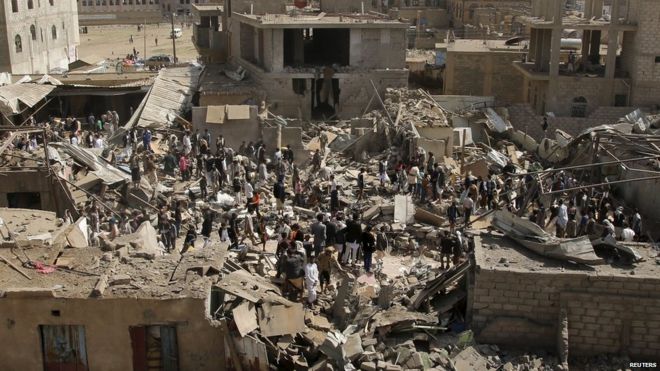 The unexpected announcement came just hours after an airstrike on Friday, conducted by the Saudi-coalition, launched on the town of Mokha. The airstrike killed 120 people, many of whom were civilians.
The Houthi rebels expressed doubt over the ceasefire and intended to wait until they heard from the United Nations before changing their position. The Houthi rebels held up 16 trucks carrying humanitarian aid from the World Food Programme.
The airstrikes on Friday struck the homes of many civilian power plant workers of Mokha. Among the 120 people killed were women, children, and the elderly. The number of causalities may have been increased due to families visiting workers for the Eid al-Fitr holiday at the end of the holy month of Ramadan.
Hassan Boucenine, a member of Geneva-based Doctors Without Borders stated, " It just shows what is the trend now of the airstrikes from the coalition." He continued, "Now, it's a house, it's a market, it's anything."
Rights groups, such as Amnesty International and Human Rights Watch, have previously expressed concern that the Saudi-led coalition is violating laws for failing to ensure that civilian casualties are minimized. Concern over the Houthi rebel's similar neglect for minimizing civilian causalities has also been expressed.
The U.N. human rights office stated earlier this week that, "since 17 June, there has been further destruction of civilian infrastructure, with at least 36 buildings, including hospitals, schools, court houses, power generation facilities, and communications institutions partially or totally damaged."
A Saudi-coaliton military official stated that the military had been given incorrect coordinates. The closest Houthi rebel outpost to the town of Mokha was at least three miles away.
Just hours before the cease-fire was to start, fighting broke out between the Saudi-coalition and the Houthi rebels for control over an airbase north of Aden. Earlier in the week, the Saudi-led coalition recaptured much of the city of Aden.
Security officials reported random shelling by Houthi rebels in three neighborhoods surrounding the airbase. After the ceasefire took effect, security officials reported that the situation on the ground surrounding the airbase had quieted down.
Over the last four months, at least 1,693 civilians have been killed with another 4,000 civilians wounded. Air strikes caused a majority of the casualties.
A humanitarian ceasefire would allow aid to reach those desperately in need. It is estimated that more than 80% of Yemen's 25 million population is in need of some form of aid. A proposed ceasefire earlier this month failed to go into effect because both sides blamed each other for not abiding by the truce.
For further information, please see:
Associated Press – 5-Day Humanitarian Ceasefire Starts in Yemen – 26 July 2015
Reuters – Houthis, Saudi-led Forces Battle for Yemen's Biggest Air Base – 26 July 2015
BBC News – Saudis declare Yemen Ceasefire, as Air Strike 'Kills 120' – 25 July 2015
The Seattle Times – Saudi-led Airstrikes Kills 120; Deadliest in Yemen Conflict – 25 July 2015