By Cintia Garcia
Impunity Watch Reporter, South America
BOGOTA, Colombia— A historical bilateral ceasefire was signed on Thursday June 25th between the Revolutionary Armed Forces of Colombia (Farc) and the Colombian state. After 52 years of fighting both parties have agreed to put down their arms—a step closer to final peace accords.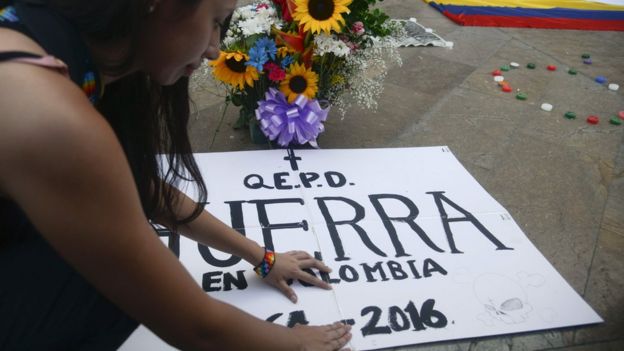 According to BBC, Farc leader Rodrigo Londono proclaimed, "let this be the last day of the war." Although Farc previously committed to a unilateral ceasefire a year ago and the government has ceased its actions against Farc, this ceasefire officially puts an end to civil war.  At the signing on Thursday both parties agreed that FARC will put its arms down within 180 days of the final peace agreements, transition programs will be in place for the 7,000 FARC members which includes 23 temporary zones and 8 camps, civilians will not be allowed to enter FARC camps, and the United Nations will monitor and receive the weapons.
Although the details of the ceasefire implementation need to be approved, the signing on Thursday in Havana, Cuba is one step closer to closing a bloody chapter in Colombian history. Approximately 220,00 people were killed due to the conflict and millions have been displaced as a result. The civil war is one of the longest wars in history. Many Colombians poured out to the capital in Colombia to see this historic day as a nation. For many like Graciela Pataquiva, a retired school teacher has never seen peace, "I'm 76 and have lived this war all my life—I never thought the time would come when these characters would sign peace."
FARC is the largest most powerful non-military organization in the western hemisphere. The organization was created in 1964 by farm workers and land workers against socio-economic inequalities, which the state responded against. FARC has had an estimated 20,000 fighters including children soldiers. Over the past few years FARC has lost funding, reduced in numbers, and lost key leaders which made this a pinnacle time to reach peace agreements.
For more information, please see:
BBC – Who Are the FARC? – 23 June 2016
NPR – Farc Reberls, Colombian Government Sign Cease-Fire Deal – 23 June 2016
REUTERS – Tears of joy as Rebels Sign Ceasefire With Colombian Government – 23 June 2016
BBC – Colombia Farc: Celebrations After Ceasefire Ends Five Decades of War – 24 June 2016
The Economist – Peace, at Last, in Colombia – 25 June 2016