By Samantha Netzband
Impunity Watch Reporter
BANJUL, Gambia—Gambian President, Yahya Jammeh, has threatened the Mandinka ethnic group by calling them "donkeys and vermin" and threatening that "I will kill you like ants and nothing will come of it."  His statements were made at political rally early in June and sparked reminders of the Rwandan genocide.  An editorial was published condemning Jammeh's actions in reference to the 1994 genocide.  The first sentence states "one would have thought that what happened in Rwanda in 1994 would have served as a lesson to the world."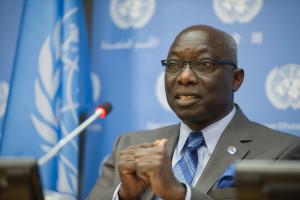 The United Nations Special Adviser of the Secretary-General on the Prevention of Genocide, Adam Dieng, condemned Jammeh's speech.  Dieng claimed that Jammeh's words were dehumanizing and dangerous coming from a public leader.  As a head of state Jammeh has an obligation under human rights to law to protect his people.  Dieng is one of many who urged him to do just that while criticizing his inflammatory remarks.
Jammeh's remarks are based of his conclusion that the Mandinka are not actually Gambian.  Reports show that his claims are false and this isn't the first time he has been debunked.  He has also claimed that the Senegalese number 950,000 in the country's population even though that would mean nearly half the population is Senegalese.
Another editorial calls out Jammeh similarly to the United Nations.  Joll of News said it was dangerous for a president to call out an ethnicity.  They cite the need to learn from the violent past as well as the duty of the president to "govern without any ill will".  It is unclear whether or not Jammeh has responded to both the United Nations concern and the concerns of citizens.
For further information, please see: 
All Africa – Gambia: UN Adviser Condemns President's Reported Threats Against Ethnic Group – 10 June 2016
Joll of News – Gambia: Jammeh Crosses the Red Line – 7 June 2016
Joll of News – Gambia: Editorial – Tribalism is a No Go Area – 6 June 2016
UN News Centre – Gambia: UN adviser condemns President's reported threats against ethnic group – 10 June 2016