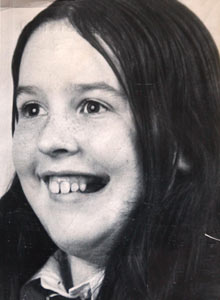 By Christina Berger
Impunity Watch Reporter, Europe
BELFAST, Northern Ireland — The British government has issued a formal apology to the family of a schoolgirl who was killed by the British army in Northern Ireland in 1976. The apology, coming almost 35 years after the incident, has acknowledged that the version of what happened as told by the solider involved is "unlikely."
Majella O'Hare, a 12-year-old Catholic girl, was walking with school friends to church in county Armagh during the summer of 1976 when she was struck in the back by two bullets. Her father, who was the school caretaker, witnessed the shooting. Majella died in a helicopter on the way to the hospital.
The paratrooper who fired the shots, Private Michael Williams, claimed that he had fired the shots in response to an IRA sniper hiding in the bushes. The RUC conducted an initial investigation, and found that Williams was not returning fire at a gunman. The RUC recommended Williams be charged with manslaughter and prosecuted. Williams was prosecuted but he was acquitted by a senior Belfast judge.
The Police Service of Northern Ireland's Historical Enquiries Team (HET) has been conducting investigations into more than 3,000 unsolved killings, many of which took place during the Troubles. The HET reinvestigated Majella O'Hare's case and concluded that there was never any evidence to suggest there had been an IRA gunman present. Last summer, the HET's director urged the army to apologize for killing Majella. This was in addition to campaigning for a formal apology which British Irish Rights Watch, a civil liberties group, has done for years.
The apology, signed by secretary of defense Liam Fox, was hand-delivered to Majella's 88-year-old mother by the Northern Ireland secretary. The letter read in part: "I apologise for Majella's death and offer you my heartfelt sympathy…both the initial investigation by the RUC and the more recent review have concluded that it was unlikely that there was a gunman in the area when the soldier involved opened fire and struck Majella, as he claimed. The soldier's actions resulted in the loss of a young and innocent life, causing sorrow and anguish for those who knew and loved Majella. On behalf of the army and the government I am profoundly sorry that this tragic incident should have happened."
This was only the second apology to ever be issued by the British government for army conduct during Northern Ireland's Troubles. Last summer, a general apology was issued in response to a report that rejected the army's defense for what happened on Bloody Sunday in 1972, when 13 Catholic demonstrators were killed. Groups like British Irish Rights Watch hope that this signals a change in the attitude of politicians and military figures, and in the future they might be more willing to acknowledge that what happened in certain cases was wrong.
Majella's family has welcomed the apology, though they've noted it's been a long time coming. "It's good to get this apology," Majella's brother Michael said. "It's not going to bring Majella back but at least it will set the record straight for history."
For more information, please see:
IRISH TIMES — Apology but no new criminal case over 1976 shooting of girl in North — 29 March 2011
AP — British apologize for '76 killing of Catholic girl — 28 March 2011
GUARDIAN — Ministry of Defence says sorry for killing of Majella O'Hare — 28 March 2011
Author:
Impunity Watch Archive