By Daniel M. Austin
Impunity Watch Reporter,  Africa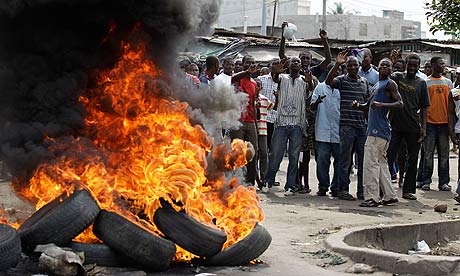 ABIDJAN, Ivory Coast – The results of recently held presidential elections in Ivory Coast have thrown the west African nation into chaos. When the election results were tallied, the initial winner was the challenger Mr. Allassane Ouattara. However, a day after the country's top election official endorsed Mr. Ouattara as the winner, the Constitutional Council which oversees elections in Ivory Coast, reversed its decision and named the sitting President Laurent Gbagbo the winner. The Constitutional Council claims there was substantial voter fraud in the northern half of the country and because of this finding, votes cast in these areas were thrown out. Coincidentally, the northern half of the country is where Mr. Ouattara is popular and drew most of his support.
According to election observers from the United Nations, and the European Union, the election process was fair and there was minimal corruption reported. Moreover, dignitaries from around the world have endorsed Mr. Ouattara including President Barack Obama and United Nations Secretary General Ban Ki-Moon. The initial election results showed Mr. Ouattara with 54.1% of the vote and Mr. Gbagbo with 45.9% of the vote.
The reversal of the election results has led to violence. After word spread that the election results were being reversed, supporters of Mr. Ouattara took to the streets and protested. The protests have turned violent in the capital city, Abidjan where at least four people have been killed in election-related attacks. It has been reported that the head of the Constitutional Council is a close friend of the sitting President and many Ivorians believe the election results has been rigged. In response to election-related violence, the country's military has sealed off the borders, and is not allowing in any foreign media or news coverage. Government forces loyal to Mr. Gbagbo are patrolling the streets and have instituted a curfew.
In yet another strange twist, on Saturday, December 4, both candidates were sworn into office. First, Mr. Gbagbo officially was sworn into office and then several hours later Mr. Ouattara swore himself into office. With the election results uncertain and the threat of violence likely, Thabo Mbeki, the former president of South Africa has stepped in to help mediate the crisis.
For more information, please see:
BBC –- Thabo Mbeki to mediate in Ivory Coast president crisis –- 4 December 2010
Author:
Impunity Watch Archive