By Greg Donaldson
Impunity Watch Reporter, Asia
BEIJING, China – Prime Minister Wen Jiabao is taking a stand against corruption within the Chinese government and its officers. Mr. Wen was quoted in the Qiushi (a conservative Communist Party journal) when he stated "the government must hold officials accountable for corruption that occurs on their watch and make the results of corruption investigations open to public inspection."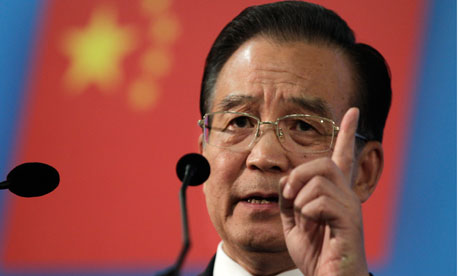 Mr. Wen has taken strong stances against corruption since the February scandal surrounding former Chongqing party leader Bo Xilai. Mr. Bo's wife, Gu Kailai, is accused of murdering Neil Heywood, a British businessman. It is believed that the Bo's and Mr. Heywood had a good relationship until a financial dispute. It is alleged that after the financial dispute Gu Kailai arranged for the killing of Mr. Heywood.
As a result of Mr. Heywood's death, Mr. Bo was removed from his political positions and party officials released a report which accused him of "serious disciplinary violations." Government officials have hinted that Mr. Bo will have criminal charges filed against him in the future.
Analysts believe Bo's case creates a major dilemma for top officials. If the government only reveals small portions of evidence against Bo it will lead many to believe he was removed solely for political reasons. If the accusations are very serious in nature, many will ask how Bo was able to become so powerful. Furthermore, people will begin to wonder how powerful other government officials are and what activities they may be involved in reports The Guardian.
Prime Minister Wen has proposed several focuses that he believes will help halt corruption in the government. In the article published by Qiushi, Mr. Wen demanded that priorities be given to the reforms in the administrative examination and approval system, the allocation of public resources, and many other services provided by the government.
One of the changes Mr. Wen hopes to see in the current system is local governments immediately responding to and investigating problems reported by the people and the media, and publicizing the results of various investigations in a timely manner."
Mr. Wen explained the importance of upholding the law throughout the country. He explained "China is a socialist country ruled by law, and the dignity and authority of the law cannot be trampled… there is no special citizen before the law. It does not allow any special party members to override the law within the party."
For more information please see:
International Business Times – Wen Jiabao Again Warns of Threat Posed By Corruption – 16 April 2012
New York Times – Prime Minister Calls for Corruption Crackdown in China – 16 April 2012
China Daily – Premier Wen Vows Greater Anti-Corruption Resolve – 15 April 2012
The Guardian – Wen Jiabao Promises Crackdown on Corruption in China – 15 April 2012