By Ben Kopp
Impunity Watch Reporter, Europe
KYIV, Ukraine – New prohibitions recently signed into law were reported to make anti-government expression more difficult in Ukraine. Strong criticism has come from western countries.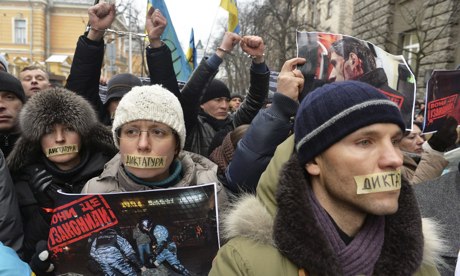 In late November 2013, Ukrainian President Viktor Yanukovich sparked massive pro-Europe rallies when he abandoned a free trade deal with the European Union, in favor of stronger ties with Russia. The deal would have been not only a landmark, but also a step toward Ukraine's future entrance into the EU.
Since the free trade deal collapsed, hundreds of thousands of Ukrainians began protesting against the government on the streets of Kyiv; and several hundreds of people began camping out in the city's Independence Square as well as the area surrounding City Hall.
Action from riot police injured several in the final week of 2013. The United States and EU condemned that violence.
On 16 January 2014, Ukraine's parliament rushed to pass laws prohibiting nearly all forms of anti-government protests, despite scuffles with opposition lawmakers who attempted to prevent the parliament session. The next day, President Yanukovich signed those prohibitions into law.
"I am deeply concerned by the events in Kyiv," EU Foreign Policy Chief Catherine Ashton said, adding that the legislation was "restricting the Ukrainian citizens' fundamental rights."
U.S. Secretary of State John Kerry said, "The steps that were taken yesterday are anti-democratic, they're wrong, they are taking from the people of Ukraine their choice and their opportunity for the future. We will continue to stay focused on this issue, but this kind of anti-democratic maneuver is extremely disturbing and should be a concern to every nation that wants to see the people of Ukraine be able to not only express their wish but see it executed through the political process."
Ukraine Foreign Minister Leonid Kozhara accused the West of "meddling in the internal affairs of our state."
The new laws prohibit unauthorized tents, stages, or amplifiers. Anyone, including organizations, providing such equipment or facilities for protests would be liable to a fine or detention of up to fifteen years for "mass violation" of public order.
"The law fully restricts all types of expression, across all platforms. It makes it possible to shut down websites, block access to the Internet. It makes it possible to control all SIM cards so they can track any person who says something bad about the government at a forum, on blogs, or even from a mobile phone," says Director of Kyiv's Media Law Institute Taras Shevchenko.
Ukraine's new bans on anti-government protest added to tensions that were scheduled to appear at a new rally—called by the opposition—in Kyiv on 19 January 2014.
During the laws' enactment, Yanukovich fired his chief-of-staff, Serhiy Lyovochkin, who allegedly wanted to step down after the 30 November 2013 riot police attack against student protesters. However, reports of Lyovochkin's desire to leave were officially denied, and Yanukovich's office gave no reason for Lyovochkin's departure.
Western states are now left to wonder how much further Ukraine's government is willing to return to Soviet-era relations.
For further information, please see:
Guardian – Ukrainian President Approves Strict Anti-Protest Laws – January 17, 2014
RadioFreeEurope RadioLiberty – Does 'Black Thursday' Mark End of Ukraine's Democratic Decade? – January 17, 2014
Reuters – Ukraine Leader, Defying West, Signs Laws against Protests – January 17, 2014
RIA Novosti – Ukrainian Leader Signs Laws Dubbed "Charter for Oppression" – January 17, 2014