By Delisa Morris
Impunity Watch Reporter, South Ameria
BOGOTA, Colombia — In Colombia, the Nasa Indians have captured seven FARC Guerilla soldiers, including two minors, for the murder of two members of their tribe.  The Nasa Indians intend to try the suspects on Sunday under their laws.  The trial will take place on the Nasa Indian land and will be convened by several members of the tribe.  If the suspects are found guilty they could face in stocks or forced labor, according to indigenous leaders.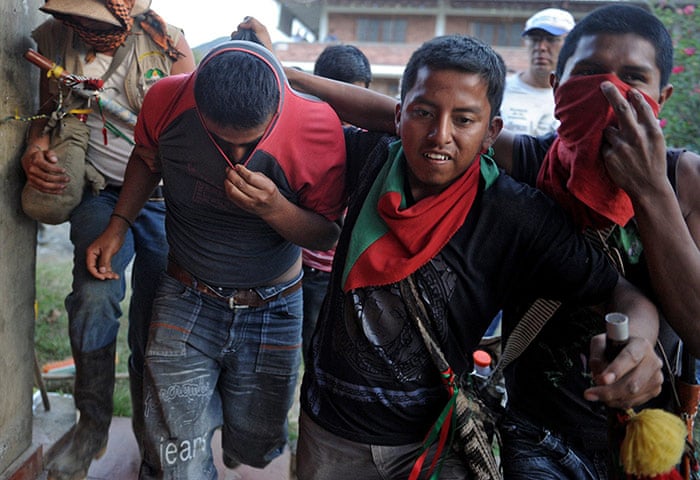 Allegedly, the Guerillas killed two tribe members on Wednesday.  The tribe members were removing a banner that commemorated the death three years ago of Alfonso Cano, the top commander of the Revolutionary Armed Forces of Columbia who was slain during a military assault.  Others say the two victims were pursuing guerrillas who had tried, but failed, to kill community leader Edgar Tumiña near Toribio.
Word of the killings spread and some 300 Nasa Indians pursued the Guerilla suspects.  Armed with little more than wooden staffs hundreds of Nasa Indians surrounded the seven Guerillas.
"They were surrounded and forced to surrender," said Gabriel Padi, a senior member of the indigenous council in Cauca.
Colombia's government has condemned the killings.  At this time negotiations are happening between the Colombian government and the FARC in Havana, Cuba.  The negotiations are said to be entering their final, and most crucial time.
"It's unforgivable that while we make progress in negotiations in Havana to end the Colombian conflict, the FARC continue attacking civilian populations in this way," chief negotiator Humberto de la Calle said in a statement Friday from the Cuban capital.
According to human rights groups 40 members of indigenous tribes have been killed this year in Colombia, several at the hands of guerillas.
Apparently another Indian was killed in the southwestern Colombian province of Cauca, the same area where two other members of the Nasa indigenous community were gunned down three days ago, officials in the region confirmed on Saturday.  All three of the victims belonged to the Indigenous Guard.  
The Indigenous Guard is an organization dedicated to defending Indian rights, land, autonomy and culture.
On Saturday, 26 death threats were issued against representatives of the indigenous assemblies of that region in a leaflet attributed to the FARC but for which the rebels have not yet claimed nor admitted responsibility.
For more information, please see: 
ABC News – Colombia Indians to Try Guerillas for Killings – 7 Nov. 2014
Fox News Latino – Another Indian Slain in Southwest Colombia – 8 Nov. 2014
The New Zealand Herald – Colombia Indians to try guerillas for killings – 8 Nov. 2014
Latin America Herald Tribune – Indian Guard Units Capture 8 Guerillas in Colombia – 7 Nov. 2014