By Delisa Morris
Impunity Watch Reporter, South America 
BOGOTA, Columbia — The Colombian politician Carlos Omar Angarita Navarro, deputy of the Assembly of the Department of Norte de Santander, was released today by the guerrillas of the National Liberation Army (ELN) who had kidnapped him Monday in that area of ​​Northeast, said official sources.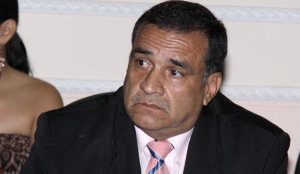 The ELN has been classified as a terrorist organization by the governments of Colombia, Peru, the United States, the European Union and Canada.  The group has been violently active in Colombia since 1964, advocating for a composite of Communist Marxism and Liberation Theology.  
Navarro, a member of the Conservative Party, was abducted Monday afternoon on the outskirts of the town of Hacari as he was returning from a meeting with the community at which the town's health problems were discussed.  The politician was in a meeting with members of an IPS in that town, they were complaining about the alleged poor performance of its services. 
Currently the Conservative Party is the second largest political force in the government's congress.
He was captured on the highway that links Hacari and Ocaña, the provincial police commander, Col. Eliecer Camacho, told reporters on Tuesday.
"No criminal group has said anything about the motive for the kidnapping," the police chief said, although he refrained from confirming ELN rebels were responsible.  Navarro's relatives believe that the ELN rebels were responsible.
Three armed men forced the vehicle Navarro was traveling in with his two sons to stop at a spot known as El Espejo, kidnapped the lawmaker and took him toward the mountains, Hacari spokesman Diogenes Quintero said.
Col. Camacho said that although a family member said the politician was abducted by the ELN, often criminal bands perpetrate their crimes using the name of another group.  But he added that the ELN does indeed operate in the area, along with the Revolutionary Armed Forces of Colombia, or FARC, guerrillas and the Popular Liberation Army.  
The deputy was released after negotiations with the participation of several Colombian authorities and mediated by a local priest, the chief investigator said in a statement , who also participated in these efforts.  
According to officals, the presence of these armed groups poses a risk to the inhabitants of the towns of Hacarí, El Tarra, San Calixto and Teorama, belonging to the troubled region of Catatumbo.
For more information, please see:
W Radio – Norte de Santander: secuestran en Hacarí al diputado Ómar Angarita – 21 Oct. 2014
El Pais.com.co – En libertad diputado secuestrado por el ELN en Norte de Santander – 21 Oct. 2014
ABC.es – El ELN libera a diputado regional secuestrado en el noresete de Colombia – 21 Oct. 2014
Fox Latino – Regional lawmaker kidnapped in NE Colombia – 21 Oct. 2014