By Adom M. Cooper
Impunity Watch Reporter, Middle East
HOMS, Syria–One day after a UN Security Council resolution aimed at ending the bloodshed in Syria was vetoed by China and Russia, the Syrian army has increased its attacks on opposition fighters in Homs. The Syrian Revolution General Commission, an opposition group, stated that 15 individuals were killed in Homs on Monday 06 February 2012 and at least three others were killed in Aleppo. Al-Jazeera received video from opposition activists that depicted apparent devastation caused by a military offensive in the Bab Amr neighborhood of Homs.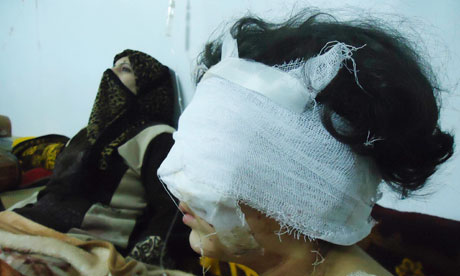 Activists and witnesses said the army had been shelling the neighborhood "indiscriminately" since the morning of Sunday 05 February 2012. Abu Abdo Alhomsy, an activist of a revolutionary council in Homs, shared these words with Al-Jazeera on Monday 06 February 2012 concerning the attacks.
"It is horrible right here. Rockets are falling. There are massive explosions that shook buildings. We don't know really what to do. It's a massive attack-a new massacre is happening here. Nobody can go out, we don't know how many homes have been hit or how many people died."
Danny Abdul Dayem, a resident of Homs, shared these words with Al-Jazeera concerning the shelling in Bab Amr. Video images have surfaced showing people who have been shot and hit by shrapnel, including children sustaining fatal injuries.
"It has been terrible. There is non-stop bombing with rockets, mortar bombs, and tank shells. There were more than 50 people injured in Bab Amr today. I saw with my own eyes kids with no legs, and a kid who lost his whole bottom jaw. It is terrible."
Dayem also indicated that only one field hospital with four doctors was still operating in the city and that it was virtually impossible to get additional medication for anything short of a gunshot wound.
The Syrian state television has denied that there had been any such bombardment in the country. It stated that residents were setting fire to piles of rubbish on the roofs of their homes in an attempt to trick the world into believing that there was an attack. The phrase "terrorist gangs" was used to describe whom was responsible for the blown up buildings in Homs. The government has come out and said that it is fighting foreign-backed armed groups
According to the Syrian Observatory for Human Rights (SOHR), a London-based rights organization, army deserters in the northeast region of the country destroyed a military control post early on Monday 06 February 2012, killing three officers and capturing 19 soldiers. The fighting occurred in the village of Al Bara in the Edleb region and that none of the army deserters involved in the skirmish lost their lives.
The death toll in Syria rose to at least 88 people over the weekend, deemed one of the bloodiest since the demonstrations and protests against al-Assad's regime began nearly 11 months ago. The chaos and turmoil in the country has claimed at least 6,000 lives total in Syria, according to various opposition groups.
The international community continues to react to the situation in Syria instead of taking a proactive approach. According to French authorities, The European Union (EU) is set to strengthen sanctions imposed on Syria in a bid to boost pressure on the government. Alain Juppe, the French foreign minister, shared these words with BFMTV television on Sunday 05 February 2012.
"Europe will again harden sanctions imposed on the Syrian regime. We will try to increase this international pressure and there will come a time when the regime will have to realize that it is completely isolated and cannot continue."
The United States closed its embassy in Syria and pulled out its remaining staff on Monday 06 February 2012, citing serious security concerns as al-Assad's regime increased its crackdown, causing more bloodshed. The State Department released a statement containing the following on the decision to close the Syrian embassy.
"The United States has suspended operations of our embassy in Damascus as of 06 February. Ambassador Robert Ford and all American personnel have now departed the country. The recent surge in violence, including bombings in Damascus on 23 December and 06 January, has raised serious concerns that our embassy is not sufficiently protested from armed attack."
With all of the attacks and death occurring the around the nation, it can only be extremely disheartening to Syrian civilians to see nations such as China and Russia veto a UN Security Council resolution and the US close its embassy. Regardless of what the "big-time" actors are doing, people are still suffering and dying on the ground. These are the same people that are continually at the mercy of al-Assad's regime. It would seem that the only way for these people's voices to be heard and acted on is the permanent absence of al-Assad's regime. Much like Hosni Mubarak of Egypt and Moammar Gaddafi of Libya, the permanent absence of a multi-decade dictator is the only way for the demonstrations and protests to actually mean something for change.
For more information, please see: 
Ahram – US Closes Syria Embassy, Pulls Out All Staff – 06 February 2012
http://english.ahram.org.eg/NewsContent/2/8/33861/World/Region/US-closes-Syria-embassy,-pulls-out-all-staff.aspx
Al-Jazeera – Syrian Army 'Steps Up Homs Offensive' – 06 February 2012
http://www.aljazeera.com/news/middleeast/2012/02/20122614732355122.html
BBC – Syria Crisis: Army Steps Up Homs Shelling – 06 February 2012
http://www.bbc.co.uk/news/world-middle-east-16902819
CNN – US Closes Embassy As Fighting Rages In Syria – 06 February 2012
http://www.cnn.com/2012/02/06/world/meast/syria-unrest/index.html?hpt=imi_c1
The Guardian – Syrian Forces 'Kill At Least 50' In Homs Bombardment – 06 February 2012
http://www.guardian.co.uk/world/2012/feb/06/syrian-forces-homs-bombardment
Reuters – Syria Bombards Homs; West Scrambles For New Strategy – 06 February 2012
http://www.reuters.com/article/2012/02/06/us-syria-idUSTRE80S08620120206