By Daniel M. Austin
Impunity Watch Reporter, Africa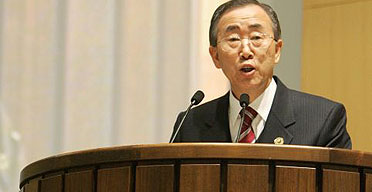 ADDIS ABABA, Ethiopia – On Saturday, United Nations Secretary General Ban Ki-moon called on African nations to support the people of Ivory Coast as the political conflict between former President Laurent Gbagbo and President-elect Alassane Ouattara drags on.  Furthermore, the Secretary General noted that a recount of the voting would be a "grave injustice and set an unfortunate precedent." Additionally, he stressed the importance of Mr. Gbagbo handing over power in a peaceful and ordered manner.
Mr. Ban Ki-moon commented on the political stalemate in Ivory Coast while delivering remarks at the 16th Annual African Union (AU) summit. During this conference, members of the pan-African body formed a committee that would help to bring the political crisis to an end. Specifically, the AU is going to set up a panel of five African leaders who will help broker an end to the crisis by drawing up a settlement that will be binding on both presidential candidates. The panel will be led by Kenyan Prime Minister Raila Odinga. Members at the conference are striving for a peaceful solution but have not ruled out using force to remove Mr. Gbagbo.
Secretary General Ban Ki-moon comments come at a time when African leaders appear split on how to resolve the crisis in Ivory Coast. Some African leaders, like Uganda's President Yoweri Museveni claim there was a rush to declare Mr. Ouattara the new president while other leaders believe that a vote recount is appropriate before any action is taken to oust Mr. Gbagbo.
The United Nations, the African Union, and several other world powers recognize Mr. Ouattara as the winner of the November election and believe Mr. Gbagbo should cede power peacefully. Since the election results were announced, Mr. Gbagbo has clung to power by claiming the election was plagued by fraud and the results are unreliable. Since the voting ended there have been numerous protests as well as violent clashes between supporters of the two candidates.  Mr. Ouattara remains holed-up in a hotel on the outskirts of the capital Abidjan while Mr. Gbagbo continues to control the country's security forces and the state run media. The hotel remains guarded by U.N. peacekeepers.
For more information, please see:
AFP — Ivory Coast ballot recount 'grave injustice': Ban – 30 January 2011
BBC Africa – UN's Ban urges solidarity over Ivorian election crisis – 30 January 2011
KBC News — UN supports Africa's mediation efforts in Ivory Coast – 30 January 2011
Reuters Africa — UN chief urges Africa to be firm against Gbagbo—30 January 2011
Author:
Impunity Watch Archive