By Samantha Netzband
Impunity Watch Reporter, Africa
LILONGWE, Malawi – 57 children were rescued from alleged traffickers in South Africa.  Three Malawi men had taken the 57 from Malawi to South Africa in a truck.  The children were discovered when South African authorities opened the truck up and two children fell out.  Officers pulled over the truck in the north west providence after it was speeding.  The children inside were all undocumented and ranged in age from 11 to 21; 18 were girls and 39 were boys.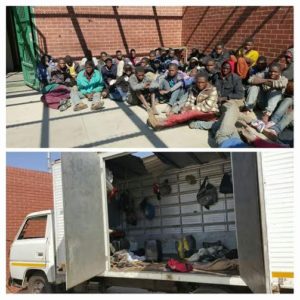 The 57 children that were rescued and the truck they were transported in (Photo Courtesy of Nyasa Times)
The three men accused of trafficking the children appeared in Rustenburg Regional Magistrate's Court on 57 counts of human trafficking.  Their case is postponed until September 13th.  The children were taken to the Department of Social Development and will be under the care of the department until things can be sorted out.
This isn't the first time that officers have the stopped the endangerment of children in the area.  About a week ago in an area east of Johannesburg officers rescued 16 girls between the ages of 15 and 18 from prostitution.  In the case of the 57 children it was unclear the reason the children were being trafficked.  Officers equated the children's transportation as similar to goats.
South African authorities will be working with their Malawi counterparts in order to further investigate the three men responsible for the transportation of the 57 children.
For further information, please see:
Eyewitness News – 57 Children Rescued from Suspected Human Traffickers– 26 July 2016
Nyasa Times – 57 kids trafficked from Malawi found at back of window-less delivery truck: Rescued in South Africa – 27 July 2016
Times Live – Police Rescue 57 Children Trafficked from Malawi – 26 July 2016