By: Kimberly Erickson
 Journal of Global Rights and Organizations, Associate Articles Editor
STRASBOURG, France – The European Court of Human Rights hosted the second International Human Rights Forum on March 25, 2021 in Strasbourg, France and via an online conference platform.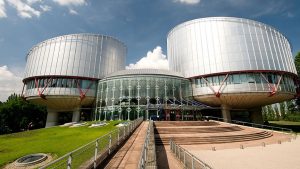 The fora's objective was to enhance judicial dialogue and collaboration among the three regional human rights courts, meeting on a biennial basis in rotating locations.
The first forum was held in Kampala, Uganda in October 2019 and hosted by the African Court on Human and Peoples' Rights. Discussion themes included "Operationalizing the International Human Rights Forum," "Enhancing Jurisprudential Dialogue," and "Financing and Sustaining the Forum." A memorandum of understanding, also known as the Kampala Declaration, was signed at this time by representatives of each regional court to reaffirm their commitment to international human rights.
The second forum included discussions on jurisprudential cross-fertilization, current regional issues, and developments made since the first forum. Practical advancements in capacity building aimed towards information sharing and direct contact have been implemented, such as wider judicial dialogue networks and staff exchanges among the regional courts. For the former, each regional court has hosted and participated in a variety of other regional and national dialogues on human rights. In addition, each regional court has created or used digital communication platforms, online learning courses, and annual electronic reports, thereby expanding the network of information sharing and collaboration on human rights. For the latter, lawyers, judges, and executive leaders conduct working visits to the other regional courts in order to develop bi- and tri-lateral relationships, study case law, and become familiar with regional judicial methods.
President of the African Court on Human and Peoples' Rights, Justice Sylvain Oré, emphasized the importance of sharing the courts' experiences so that they may each better address distinct regional judicial issues, including implementation of court decisions, jurisprudence, and ratification of international and regional human rights covenants. "We should have a certain harmonization on judgements we deliver. We had it in mind when we reached this memorandum of understanding," he said, referring to the Kampala Declaration. His message of collaboration embodies the universality of human rights and transcends geographic boundaries.
Uganda and the African continent as a whole benefitted greatly from the improved dialogues among the regional courts according to Ugandan Chief Justice Bart Katureebe and Dr. Robert Eno, Registrar of the African Court on Human and Peoples' Rights. Both live and online presence dialogues included relevant topics such as migration, violence against women, environmental hazards, climate change, bioethics, terrorism, and mass data surveillance.
Discussions and results from the second forum have not yet been made public.
For further information, please see:
African Court on Human and Peoples' Rights – Memorandum of Understanding: Kampala Declaration – 29 Oct. 2019
African Court on Human and Peoples' Rights – Press Release: All Set for the Second International Human Rights Forum Tomorrow – 24 Mar. 2021
AllAfrica – Uganda: Kampala Declaration Casts Wider Net to Safeguard Human Rights – 29 Nov. 2019
Anadolu Agency – Regional human rights courts sign cooperation pact – 30 Oct. 2019
European Court of Human Rights – Programme: 2nd International Human Rights Forum (Regional Courts) – 25 Mar. 2021
European Court of Human Rights – Speech: Inter Court dialogue: how make closer the relations between the Courts – 28-29 Oct. 2019