By: Chiara Carni
Impunity Watch Staff Writer
DAKAR, Senegal –  Protests arose on March 3, 2021, after the arrest of opposition leader Ousmane Sonko over rape allegations. Ousmane Sonko has denied the rape accusations and believes that his arrest was a political move called for by President Macky Sall and Sall's government. Subsequently, Senegalese activists called for protests over a three-day period to combat the arrest of the opposition leader. "The Movement for the Defense of Democracy (M2D), a coalition of groups demanding change in the West African nation, announced the decision in a press conference."  The press conference also demanded the release of political prisoners held by President Sall and his government.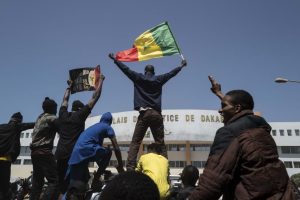 Following his arrest, Ousmane Sonko was charged with disturbing public order and participating in an unauthorized demonstration while he was on his way to court to respond to the rape accusation. According to Amnesty International, the protests in Senegal have already led to the deaths of at least eight individuals, some of them caused by excessive use of force and firearms by government security forces. Additionally, approximately 235 people were injured during the protests on March 5th in Dakar, and around 100 people have been arrested since March 3rd.  
Security forces fired tear gas and live bullets to disperse protesters. Ida Sawyer, the deputy Africa director at Human Rights Watch, said "the recent deaths and injuries of protesters should be credibly investigated, and security force members" should be held responsible for unlawful or excessive use of force. Additionally, Human Rights Watch reported nationwide internet disruptions throughout "the day on March 5, making it difficult for national and international journalists, human rights activists," and others to communicate, gather information, or report on current events.
Senegalese citizens and human rights activists are concerned with the lack of protection afforded to them by the Senegalese Constitution to protect their right of freedom of assembly and expression, and uphold the prohibition of the excessive use of force by law enforcement officials. The United Nations Human Rights Council has previously condemned internet shutdowns by governments and stated that human rights apply offline and online.  
President Sall addressed the nation on March 8th, calling for "calm." He offered his condolences to the families affected by the protests but failed to mention any investigation into the circumstances surrounding the deaths of the protestors.
The Movement to Defend Democracy called for a national day of mourning on March 12th and for more demonstrations to occur on March 13th. Ida Sawyer told Human Rights Watch that "instead of cracking down on peaceful protesters, the authorities should work to address their concerns, including by advancing democratic governance and the rule of law and protecting basic economic rights for everyone."
While it is unclear whether the national internet shortages will continue, it appears evident that the Senegalese citizens do not plan to stop the protests, citing issues including a general deterioration of the economy related to the Covid-19 pandemic, and the increasing lack of jobs for its citizens and youth in particular.
For further information, please see:
Africa Times – At least 4 dead as Senegal's opposition calls for new protests – 6 Mar. 2021
Amnesty International – Senegal: Restraint needed as country-wide protests planned after eight died last week – 8 Mar. 2021
Human Rights Watch – Senegal: Respect Free Expression, Assembly – 12 Mar. 2021