By: Shane Kelly
Impunity Watch Staff Writer
LIMA, Peru – Earlier this month, hearings resumed against former president Alberto Fujimori for the hundreds of thousands of women forcibly sterilized under his tenure in the 1990s.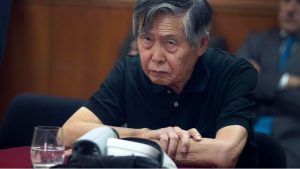 The judicial process began last Monday against Alberto Fujimori, the former president of Peru. The trial focused on his participation in the Peruvian government's role in the sterilization of over 270,000 indigenous women without consent in the 1990s. Those women brought this case against Fujimori, not only for the blatant offenses against female autonomy but also for the long-lasting effects from infections.
The prosecutor in the case brings charges specifically on behalf of the families of five dead women, and 1,301 others who allege being sterilized against their will. Currently, the 82-year-old Fujimori is serving a 25-year prison sentence for various murder charges of his own citizens by his military.
Peruvian women—victimized by Fujimori with his sterilization policies in the 1990s—are now demanding justice. They allege these sterilizations were part of Fujimori's "family planning" policy—a euphemism for what he considered a solution to overpopulation he referred to as the "Indian problem."
In one particular situation, Mrs. Magna Morales was denied the right to sue the government because of her agreement to the procedure, having been incentivized with gifts of food and clothing. In this instance, Mrs. Morales died of complications from the surgery.
Fujimori's defense is that, because when he was extradited from Chile in 2007 sterilization charges were not included, he should not be judged on those crimes now. He later boasted his program as reducing the birth rate of Peru in comparison to China's one-child policy.
The case was reopened in 2011 when the Inter-American Commission on Human Rights pressured Peru to investigate. In 2014, more than 2,000 cases were closed for insufficient evidence. The indigenous women persisted, pushing for the current trial and maintaining an online database called "Quipu" to track those subjected to this forced sterilization policy.
Hearings resumed this month, giving hope to thousands of women that they will receive some semblance of justice.
For further information, please see:
ABCNews – In Peru, Sterilization Case Against Fujimori Goes to Court – 1 Mar. 2021
New York Times – Using Gifts as Bait, Peru Sterilizes Poor Women – 15 Feb. 1998
Yahoo! – Forcibly Sterilized During Fujimori Dictatorship, Thousands of Peruvian Women Demand Justice – 3 Mar. 2021