By Erica Laster                                                                                                                       Impunity Watch Reporter, North America
ATLANTA, United States– The family of Mark Lyttle, a United States citizen of Puerto Rican descent born in North Carolina, brought suit in federal court alleging violations of his Constitutional rights to due process and equal protection.  In December of 2008, an immigration judge entered an order for Lyttle's deportation after denying him the opportunity to present evidence or deny that he was Mexican.  Lyttle, who speaks no Spanish, was flown to Texas and set off on foot into Mexico where he was quickly picked up and arrested.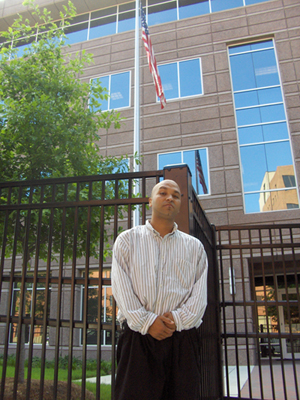 While a patient at a mental facility, Lyttle inappropriately touched a halfway house staffer's rear and was convicted of a misdemeanor for which he was serving prison time in Atlanta.   State prison officials involved immigration officials after questioning his citizenship status.  The suit claims that "Mr. Lyttle did not understand what he was signing or that he knowingly consented to being deported."  Officials failed to assign Lyttle an advocate or attorney to represent him despite the fact that his illness and mental disabilities were well known and apparent to those coming in contact with him.
The Legal Director of the North Carolina division of the American Civil Liberties Union, Katy Parker, recently indicated that the lawsuit seeks damages and policy changes to prevent unfounded deportations of other American citizens.  Lyttle statements regarding his Social Security number and his birth place of Rowan County were ignored by officials.  After deportation, Lyttle was forced to wander in the streets for four months, spending his time in shelters or prisons in Mexico, Honduras, Nicaragua and Guatemala.  
Lyttle's family was not informed that he was in immigration proceedings when they called regarding his release from state prison.  "It's really scary how you can get on the slippery slope and there are not proper checks and balances, even if you are a U.S. citizen," Parker was quoted as saying. "In this case, there's just not adequate protection."
Lyttle was able to reach the U.S. embassy in Guatemala where officials contacted his family and issued a passport after receiving his citizenship information.
For More Information Please Visit:
Washington Post – Lawsuit: Mentally ill US citizen wrongly deported 13 October 2010
Progressive Pulse – ACLU: Mentally ill man wrongly deported  14 October 2010
Star Tribune – Lawsuit: Mentally ill US Citizen Forced to Wander Central America After Wrongful Deportation 13 October 2010
Author:
Impunity Watch Archive