By Emily Schneider
Impunity Watch Reporter, Middle East
BEIRUT, Lebanon – At least three people were killed and over eighty injured by a car bomb in East Beirut's Ashrafiyeh district during Friday afternoon's rush hour. Wissam al-Hassan, the Internal Security Forces' (ISF) intelligence chief, was among the dead.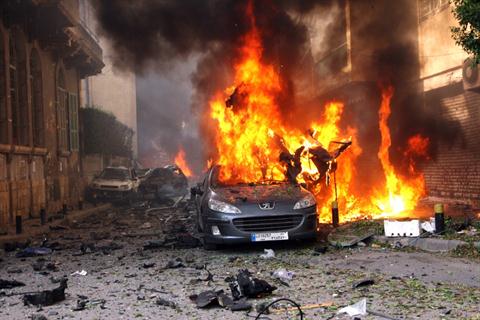 Hassan had long been known for his anti-Syrian sentiment.  He was one of several intelligence officers who proved invaluable to the uncovering of a recent bomb plot that led to the arrest of Michel Samah, a Lebanese politician close to Syrian President Bashar al-Assad. Samah was accused of trying to help smuggle explosives into Lebanon.  Hassan was also involved in pursuing those responsible for a series attacks and assassinations in Lebanon between 2005 and 2008, including the murder of Rafik al-Hariri.
Saad Hariri, a former Lebanese prime minister, was who he thought was responsible for Friday's bombing. His reply: "Bashar Hafez al-Assad. Who killed Wissam al-Hassan is as clear as day. Certainly the Lebanese people will not be silent over this heinous crime and I, Sadd Hariri, promise that I will not be silent."
Others were not so quick to give their opinions on who was responsible. Ziad Baroud, another former Lebanese interior minister, said that it was too soon to tell who was behind the car bombing.
"High-ranking officials have not said anything so far, and therefore neither can I," Baroud told Al Jazeera. "We have no indication whatsoever [of who is behind this]. We know this is a strong and sad message, and we know this could destabilize the whole country."
The incident gives credence to fears that the civil war in Syria is spilling over into the country, which shares a border. Tensions between Lebanese factions caught on opposite sides of the conflict are heightening. Just two days ago, Lakhdar Brahimi, the UN-Arab envoy peace to Syria, warned that "you cannot expect the Syrian crisis to remain within Syrian borders."
The explosion occurred in a predominantly Christian area on a street lined with shops, churches, and office buildings. There is usually a significant number of police in the area. According to Aram Nerguizian, a teacher at a school around the block from the attack site, the area is "among the safest" in Beirut.
For further information, please see:
Al Jazeera – Lebanon Intelligence Official Assassinated – 19 October 2012
CNN – Anti-Syrian Official Killed When Car Bomb Rocks Beirut – 19 October 2012
The Daily Star – Top Security Official Killed in Beirut Bombing – 19 October 2012
The Daily Star – Hariri Accuses Assad of Assassinating Lebanese Security Official – 19 October 2012
Washington Post – A Car Bomb in Beirut: Photos of Lebanon in Shock – 19 October 2012
Author:
Impunity Watch Archive