Hojin Choi
Impunity Watch Reporter, Asia
ISLAMABAD, Pakistan – Fifty Pakistani people were arrested for torturing and killing a Christian couple last week in the Punjab province, where religious conflicts have recently intensified, according to local police.
Before the murder, the Christian couple was accused of desecrating the Quran, and a local mullah announced that the couple was guilty of blasphemy. Allegedly, burned pages of the Quran had been found in trash of the couple's house. A man who had financial conflicts with the couple accused them of blasphemy when the couple refused to pay back some money they owed to him.
The police reported that hundreds of people marched to the couple's house, some of them broke the door and beat them hard after dragging them out of their home. Then, the crowd threw the couple into brick kiln. When police arrived, they were already burned to death. The local police chief, Jawad Qamar, said that "their bodies were totally burned." He added that 48 people were arrested, while at least 460 were under investigation for criminal charges.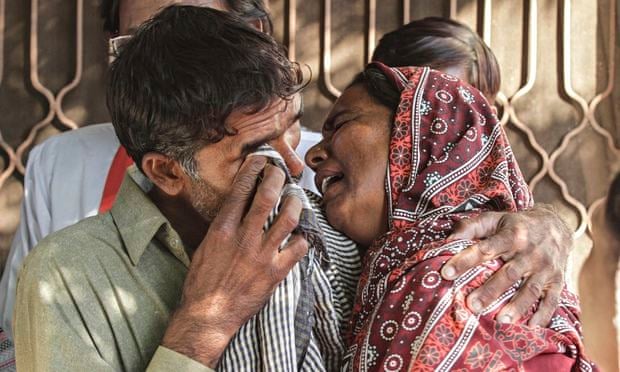 Police later identified the burned bodies as Shahzad Masih and Shama Masih, who had four children. They were in their mid-20s. The province's chief minister says that their remaining family members will receive for compensation about $49,000 in U.S. dollars.
In Pakistan, a person charged with blasphemy can receive, at maximum, the death penalty. The law is problematic since it does not specifically and clearly define what words or behaviors will violate the law. Rather, the law is often used to oppress minority religions in Pakistan. About 4% of people in Pakistan are Christians, and Sunni Muslim militants often target them for terror attacks, such as bombing. Moreover, according to human rights groups, the controversial law is often used for personal revenge or hatred since the accused will be targeted by mob violence. The religious minorities in Pakistan have long been complaining about the government's failure to protect them.
Whenever victims of the blasphemy law appear in Pakistan, the incidents have called for the world's attention. Recently, Asia Bibi, a Pakistani Christian woman, was sentenced to death, and human rights activists of the world have been requesting her release. Pakistani government officials who tried to save her were assassinated by people in support of maintaining the blasphemy law. In 2013, a Pakistani Taliban splinter group allegedly attacked a Christian church in Pakistan where 85 people died by the attack.
For more information please see:
CNN – 50 arrested in slaying of Christian Pakistani couple 6 November 2014
New York Times – Pakistani Christian Couple Are Tortured and Burned to Death by Angry Mob – 4 November 2014
The Guardian – Pakistan arrests dozens over Christian lynchings – 5 November 2014
ALJAZEERA – Taliban splinter group claims Pakistan-India border attack – 3 November 2014
Author:
Impunity Watch Archive