By Emily Schneider
Impunity Watch Reporter, Middle East
DAMASCUS, Syria – The Local Coordination Committees accused the Syrian government of using "vacuum bombs" while repeating the claim that the government was still employing "cluster bombs."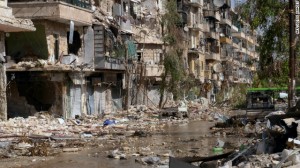 Vacuum bombs are thermobaric explosives that more effectively destroy targets in urban areas. The blast wave released by the bombs is longer, which increases the rate of casualties.
A Human Rights Watch Report cites a U.S. Defense Intelligence Agency Report that stated, "the [blast] kill mechanism against living targets is unique–and unpleasant…. What kills is the pressure wave, and more importantly, the subsequent rarefaction [vacuum], which ruptures the lungs…. If the fuel deflagrates but does not detonate, victims will be severely burned and will probably also inhale the burning fuel. Since the most common FAE fuels, ethylene oxide and propylene oxide, are highly toxic, undetonated FAE should prove as lethal to personnel caught within the cloud as most chemical agents."
A separate U.S. Central Intelligence Agency report stated, "the effect of an FAE explosion within confined spaces is immense. Those near the ignition point are obliterated. Those at the fringe are likely to suffer many internal, and thus invisible injuries, including burst eardrums and crushed inner ear organs, severe concussions, ruptured lungs and internal organs, and possibly blindness."
The Defense Intelligence Agency document,  "Future Threat to the Soldier System, Volume I; Dismounted Soldier–Middle East Threat," September 1993, p. 73 was obtained by Human Rights Watch under the U.S. Freedom of Information Act. That document speculates that because the "shock and pressure waves cause minimal damage to brain tissue…it is possible that victims of FAEs are not rendered unconscious by the blast, but instead suffer for several seconds or minutes while they suffocate."
Damascus has not commented on the accusations and independent news agencies have not been able verify the accusations.
This past week has been particularly bloody in Syria. At least 37 people died Thursday, according to the LCC, 18 of them in Hama. The early reports follow a week of grim tolls, including 121 reported dead Wednesday and 163 on Tuesday.
On Thursday, Russian Foreign Minister Sergey Lavrov reiterated Moscow's concern that there is no central leadership to negotioate with in Syria's opposition forces.
"There is no person who could speak on behalf of the Syrian opposition, and there will be no progress without negotiation," Lavrov told the state-run Itar-Tass news agency.
For further information, please see:
CNN – Opposition Group Accuses Syrian Government of Using 'Vacuum Bombs' – 1 Nov. 2012
Local Coordination Committee – Syria Today 1-11-2012 – 1 Nov. 2012
Local Coordination Committee – Syria Today 24-10-2012 – 24 Oct. 2012
Human Rights Watch – Backgrounder on Russian Fuel Air Explosives (Vacuum Bombs) – 1 Feb. 2000
Author:
Impunity Watch Archive