By Hannah Stewart
Impunity Watch Reporter, Africa
Johannesburg, South Africa — Dr. Mamphela Ramphele, an anti-apartheid activist and co-founder of South Africa's Black Conscious Movement, has announced the formation of a new political party to challenge ruling African National Congress (ANC), to which Nelson Mandela once belonged.  Dr. Ramphele's party is called Agang, a Sesotho word meaning "build."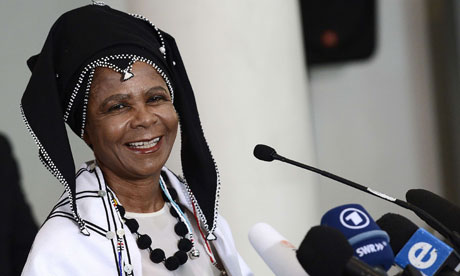 Dr. Ramphele, a 65 year-old medical doctor and social anthropologist, told a news conference on Monday that her party will serve millions of South Africans who desire a new beginning.  She stated her call to South Africa: "join me in building the South Africa of our dreams."
She accused the governing party of corruption, undermining democracy, and abusing its political power.
Moreover, Dr. Ramphele confirmed at the news conference that her party will run in the 2014 elections and will campaign "from village to village."  Her party is the latest in a string of opposition groups challenging ANC's dominance.
The ANC, which was formed more than a century ago, has won every national election since the end of apartheid in 1994.  However, the party has been subject to increased scrutiny due to charges of corruption and poor governance.  Despite promising "a better life to all," inequality in South Africa has only grown since apartheid ended.
South Africa faces a growing chasm between rich and poor, as well as widespread unemployment.  As such, South Africa has seen increasingly violent protests against job losses and utility shortages.  Moreover, the country is facing an education and health crisis.
Dr. Ramphele has been a fixture in South African public life for decades.  She had a close relationship with Steve Biko, a Black Consciousness activist, who died in police custody in 1977.  They had two children together.  The apartheid government banished her for seven years to the village of Lenyenye for her political activism.  There she committed to bettering the community and she started a small clinic that treated thousands of rural residents.  She has also earned degrees in anthropology and business.
After apartheid ended, she became the first black vice chancellor of the University of Cape Town.  She later became a managing director of the World Bank.
When asked how the Mandela of 1994 would feel about the state of the nation now, Dr. Ramphele said: "absolutely disappointed."  She went on to say that, "he would be the first to acknowledge that he failed, but the fact of the matter is that failure is not a problem, the problem is what do we learn from failure?"
For more information, please see:

The Guardian – Mamphela Ramphele Launches Challenge to South Africa's ANC – 18 February 2013
The New York Times – Anti-Apartheid Leader Forms New Party in South Africa – 18 February 2013
The Wall Street Journal – Activist Seeks to Take On African National Congress – 18 February 2013
The Washington Post – Anti-apartheid Fighter Mamphela Ramphele to Form a Party to Build a "South Africa of Our Dreams" – 18 February 2013
Author:
Impunity Watch Archive